SEO (search engine optimization) is crucial in most social media avenues. That includes blogs and websites too! In order to get more traffic to your WordPress website you need to improve your SEO. We know that most WordPress SEO guides can be a little too technical for beginners. But if you're serious about increasing your site's traffic then paying attention to WordPress SEO is super important. In this guide we will share the top WordPress SEO tips so you can improve your site's SEO and get more organic traffic.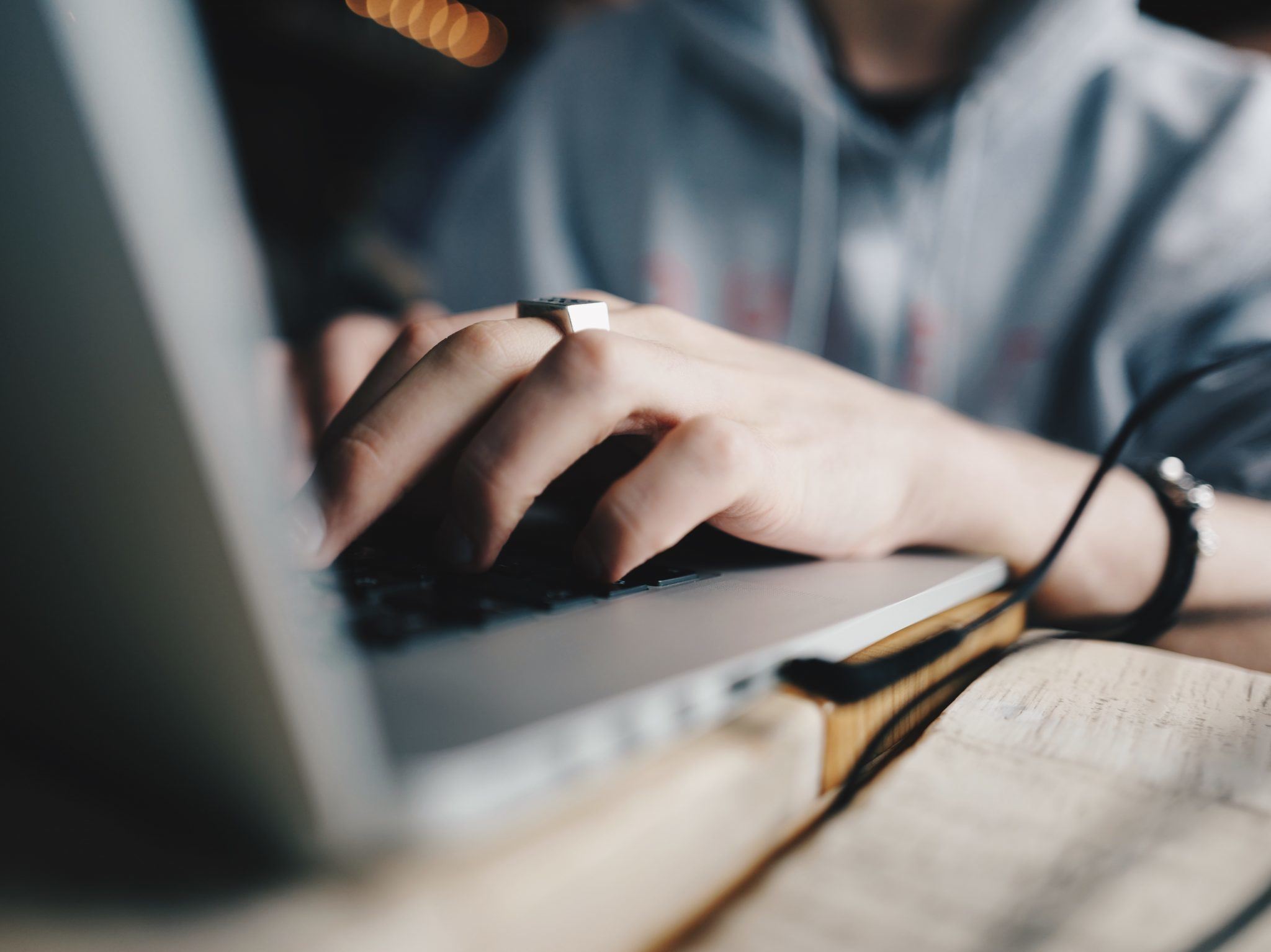 Luckily WordPress is SEO friendly and makes sure that the code it generates follows the best practices of SEO. However, there is a lot that you need to do if you want to maximize your efforts. Below you will find easy steps for you to take action. We know that idea of optimizing WordPress SEO might sound intimidating. But, don't worry – it isn't that complicated. Let's start with the basics..
What is SEO?
Search Engine Optimization is essentially a strategy that websites owners use to get more traffic by ranking higher in search engines. But it isn't about tricking Google. It's about creating a website that has an optimized code and formatting that makes it easier for search engines to find your site. When people search the web for the topics you write about, your optimized content will appear higher in the search results. Which results in more people clicking through to your website.
Why is SEO important For WordPress?
Search engines are usually the biggest source of traffic for most websites. Google and other search engines use algorithms to better understand websites and rank the accordingly. However, the algorithms aren't perfect. They still need your help to understand what your site's content is really about. Therefore if your content isn't optimized the search engines won't have a clue on how to rank it. When people search for the topics you write about, your website won't appear in the results. Which sucks because it means that you're site will miss out on a lot of traffic. This is why it's important to make your website SEO friendly.
THE BASICS OF WORDPRESS SEO
SEO can get technical, but it doesn't have to be. If you take the time to learn a few basic tips you can optimize your site and get a noticeable boost in traffic. You don't have to be a techie either. If you're already using WordPress, then you've got what it takes! Let's get started optimizing your website.
Check Your Site's Visibility Settings
WordPress has a built-in option to hide your website from search engines. The main purpose of this is to give you time to work on your website before it goes public. However, sometimes this option gets checked accidentally. Which, as a result, makes your website unavailable to search engines. So, if your website doesn't appear in search results, the first thing you need to do is make sure that this option is unchecked.
Log into the admin area of your WordPress site and visit Settings » Reading page.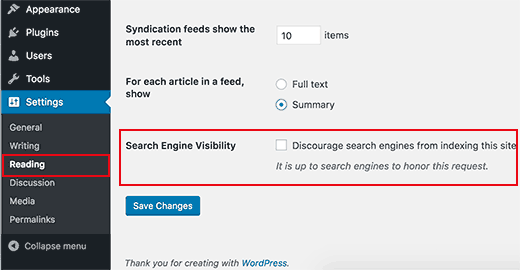 Scroll down to the 'Search Engine Visibility' section and check to see if the box next to 'Discourage search engines from indexing this site' is unchecked. Don't forget to click on the 'Save Changes' button to store your changes.
Using SEO Friendly URL Structures in WordPress
A SEO friendly URL structure contains words that clearly explain the content of the page. They are easy to read by both humans AND search engines.
Some examples of SEO friendly URLs are:
http://www.yoursitename.com/how-to-install-wordpress/
http://www.yoursitename.com/common-wordpress-errors-and-how-to-fix-them/
These URLs are readable and a user can easily guess what they will see on the page just by looking at the URL text.
So what does a non-SEO friendly URL look like?
http://www.yoursitename.com/?p=10467
http://yoursitename.com/archives/123
The URLS above use numbers that are basically unrelated to the content. Which means users can't guess what they will find on the page. That's why using an SEO friendly peramalink structure improves your chances of getting better positions in search results. Here's how you can check and update your WordPress site's permalink structure.
Visit the Settings » Permalinks page. Select the post name option and then click on the 'Save Changes' button to store your settings.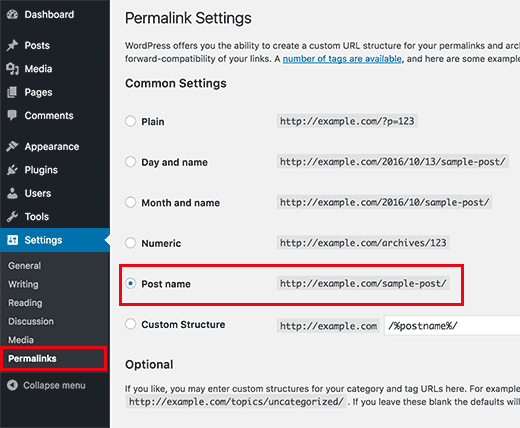 Note: If your website has been running for more than 6 months, then please don't change your permalink structure unless you're using the numbers option. If you're using Day and Name or Month and Name, continue using that.
However, if your website has been running for more than six months, don't change your permalink structure. Unless you're using the numbers option. If you're using Day and Name or Month and Name, continue using that. Changing this will change your permalink structure on an established site will result in losing all of your social media share count. As well as running the risk of losing your existing SEO ranking.
Although if you have to change your permalink structure, then it's best to get a professional. This way they can setup the proper redirects. Just keep in mind that you'll still lose your social share counts on the pages.
www VS non-www
If you're just starting out with your website, then it's important to choose whether you want to use www (ex. www.yoursite.com) or non-www (ex. yoursite.com) in your site's URL. Search engines consider these to be different websites, so this mean that you need to choose one and stick with it. You can set your preferences by heading to Settings » General page. Simply add your preferred URL in both the 'WordPress Address' and 'Site Address' fields.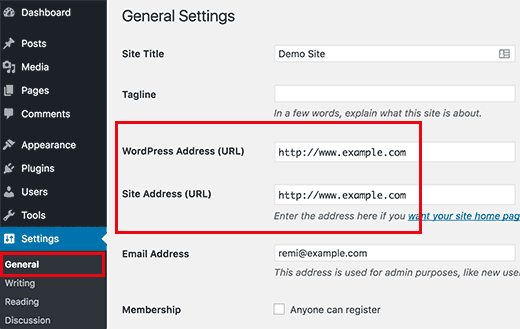 Honestly, despite what someone else might say, from a SEO standpoint there's no advantage to using one or another.
Using SEO Plugins
If you aren't new to WordPress then you know that there's a plugin or practically everything. Which means that there are WordPress plugins for SEO. When it's finally time to choose an SEO plugin take a look at the two most popular ones: Yoast SEO or All in One SEO Pack. They are both really effective solutions.
Add An XML Sitemap
An XML Sitemap is a formatted files that lists every single page on your website. This makes is easier for search engines to find every last bit of your content. However adding an XML sitemap doesn't boost your site's search rankings. What it does do is help the search engines find pages quickly so they can start ranking them.
So, if you're using the Yoast SEO plugin, then it will automatically create an XML sitemap for you. In order to find you sitemap go to this URL (don't forget to replace example.com with your own domain name):
http://example.com/sitemap_index.xml
We will show you how to submit your XML sitemap to Google in the next step.
Add Your Site To the Google Search Console
Google Search Console (formally known as Webmaster Tools) is a set of tools offered by Google. It gives website owners a look at how their content is seen by the search engine.
It provides reports and data to help you understand how your pages actually appear in search results. You'll also be able to see the actual search terms people use in order to find your website, how each page appears in the search results, and how often your pages are clicked.
This information comes in handy because it helps you understand what's working on your site and what isn't. Which means that this can help you plan your content strategy accordingly. Google Search Console also alerts you when there is something is wrong with your site. For example, if the search crawlers are unable to access it, find duplicate content, or restricted resources.
Optimizing Your Blog Posts for SEO
More often than not, beginners make the mistake of thinking that all they need to do is install a WordPress SEO plugin. Trust us, there's a lot more to it than installing and activating. SEO is an ongoing process that you must keep up with in order to see maximum results. Yoast SEO allows users the chance to add a title, description, and focus keywords to every single blog post and page. It also shows you a preview of what users will see when the Google your site.
It's really important to add SEO to your blog posts. So be sure to take the time to optimize your title and description. Also, when you're writing your blog post, scroll down to the Yoast SEO section to take full advantage of it. Choose a good focus keyword and a great title and you're good to go. Don't forget about the meta description too!
WordPress SEO Best Practices
If you want even better results, then you need to follow the WordPresss SEO best practices. The ones below aren't too technical and most won't even require you to use any coding. All of them will make a huge difference if you follow them. Let's dive in…
Use Categories and Tags in WordPress
WordPress lets you sort your blog posts into categories and tags. Which makes it easier for you to manage your content by topics. This makes it even easier for users to find the content they want. Categories and tags also help search engines understand your site's structure and content.
Categories are meant for broad grouping of your posts. Think of it this way, if your blog was a book, then categories will be the table of content. For example, on a personal blog you can have categories like music, food, travel, etc. Categories are hierarchical, so you can add smaller categories to them.
On the other hand, tags are more specific keywords that describe the contents of an individual post. For example, a blog post filed under food category can have tags like breakfast, eggs, hashbrowns, etc. Think of these as indexes section in a text book.
By properly using categories and tags, you make it's easier for your users to browse your website. Since it's easy for users, it also makes it easier for search engines to browse your website too!
Make Internal Linking A Habit
Search engines assign each page on your website a score and the most common signals of authority are links. This is why it's important to link to your own content from your other blog posts and pages. So make it a habit to link your own posts whenever possible. This will really help you boost your page views. It even increase the time users spend on your site, which ultimately improves the SEO score of your individual blog posts and pages.
SEO Optimize Your Images
Images are a lot more engaging than text but they also take more time to load. If you are not careful with image sizes and quality, then they can really slow down your website. Therefore you need to make sure that you use images that are optimized so they can load faster.
Another trick you can use to optimize your images for search engines is to use a descriptive title and alt tags. These tags help search engines understand what your images are about. Luckily, WordPress allows you to add title and alt tags whenever you upload an image.
If you follow these best practices, you're site is headed in the right direction in terms of SEO. If you decide that WordPress SEO is a little difficult for you, we can help! But if you follow these steps you should be fine. Still need more WordPress support? We offer it 24/7!
We hope this post has helped you learn how to properly optimize your WordPress site for SEO. Go ahead and implement a few of these WordPress SEO tips, and you should see an increase in your traffic within a few months as the search engines process your changes.
Have you tried your hand at SEO before? Did you find it easy or hard? What do you think the most important SEO tactic is? Let us know about it below. And if you have any questions feel free to leave a comment so we can discuss!