Themes in WordPress allow your site to take on a whole new look with the click of a button. Today we're sharing the best free WordPress themes of 2017. If you're concerned with a responsive theme (which you should be!), there's no need to worry. Because most WordPress themes are fully responsive to begin with. We all know that there are a lot of WordPress themes out there. Which can make it somewhat difficult when it comes to choosing the best one. So we've done the hard work for you and selected some of the best WordPress themes for you to choose from. We're also sharing a few tips as well! Let's get started, shall we?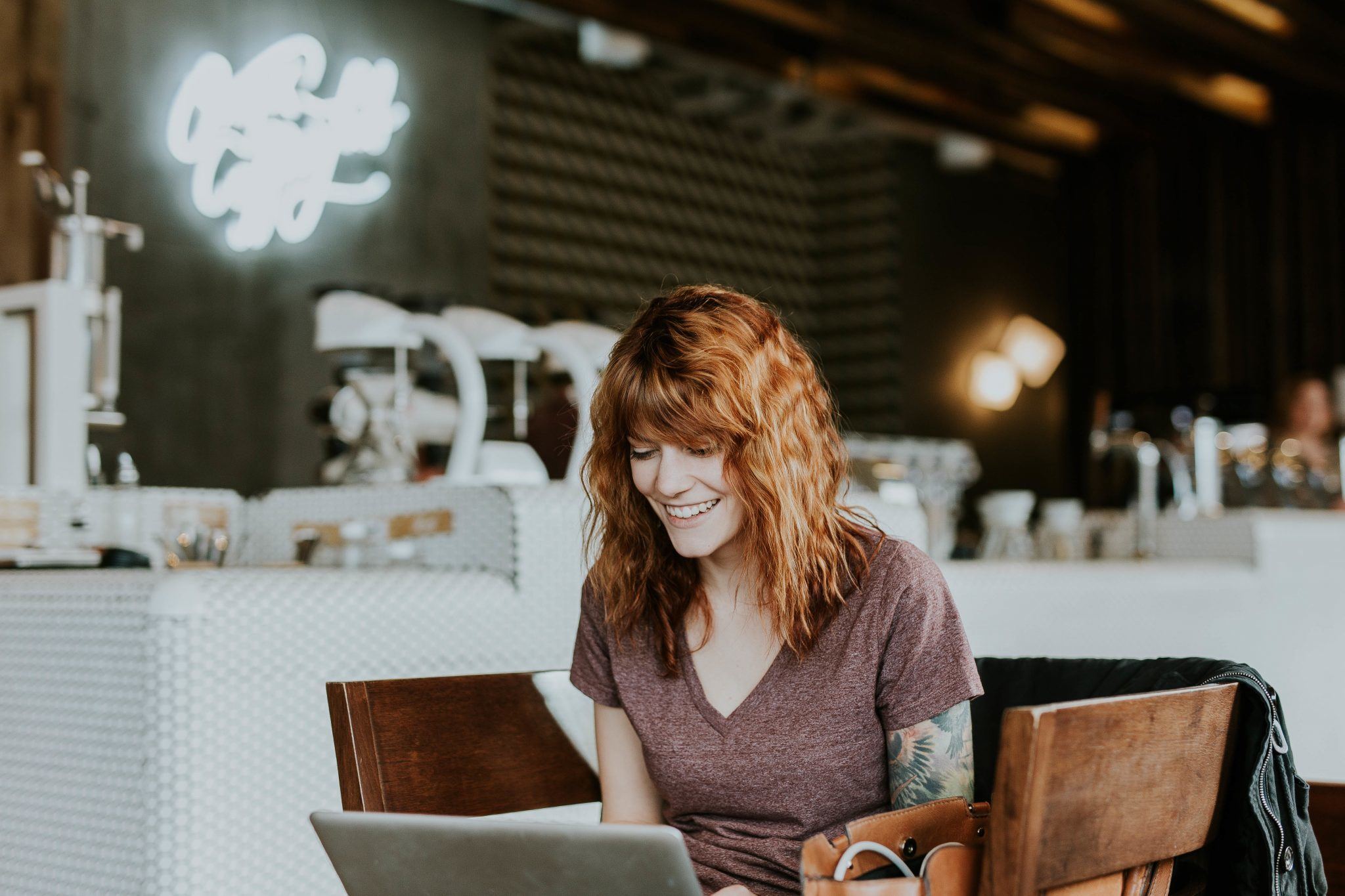 Getting Started – A Quick WordPress Startup Guide
In our introductory WordPress posts, part one and two, we discussed the difference between a self-hosted WordPress.org site vs a WordPress.com. Knowing the difference is essential, especially if you are just starting out. You need to make sure that you are using the right platform for your website. So let's take a quick look at the difference.
WordPress.org is the main location for the WordPress software. You can download it, view the documentation, ask and answer questions in the forums.
WordPress.com is a service offered to websites that run on WordPress. From here you can sign up for a free account and get a fully functioning website. However, you will only be able to use a WordPress subdomain – such as mywebsite.wordpress.com – but the restrictions are minimal if you're a first time user.
A self-hosted WordPress.org site needs a good domain name and the best WordPress hosting. A domain is the address for your website and hosting is where your site lives on the internet. Go ahead an install WordPress and pick a theme from the list below and install it. Once you are up and running, you can pick a theme from the list below and install it. If you need help, then see this guide on how to install a WordPress theme.
FREE THEMES & WHAT TO LOOK OUT FOR
As for themes in WordPress, there are both free AND premium ones. We all know that sometimes free is what is most cost effective in the long run. And we also know that free doesn't always mean bad. However there are a few things that you should look out for. Here's what you should consider before diving into the world of free WordPress themes.
The key to using free themes is to stick with ones that come directly from WordPress. Using themes outside of WordPress might open your website to vulnerability. Which means that it puts you at a greater risk of downloading something that could potentially have malware in it. Therefore there are a few more things that are pretty important when selecting a free theme…
Don't forget to:
Read reviews
Check publication dates
Evaluate the features
If you're searching for a theme in the WordPress directory, it's a good idea to check and see if the developer has an official website too. It's always better to download from those who have an actual online presence, than those who don't. Alright, enough with all the protocol. Here are…
THE BEST FREE WORDPRESS THEMES OF 2017
BENTO
Bento is a super, powerful multi-purpose WordPress blog theme. It comes with a ton of features too! It works great with most page builder plugins. Best of all, it recommends installing a plugin once it's activated. Bento is a great free WordPress theme because there are a lot of customization options. All of them can be accessed using the theme "customizers".
MODERNIZE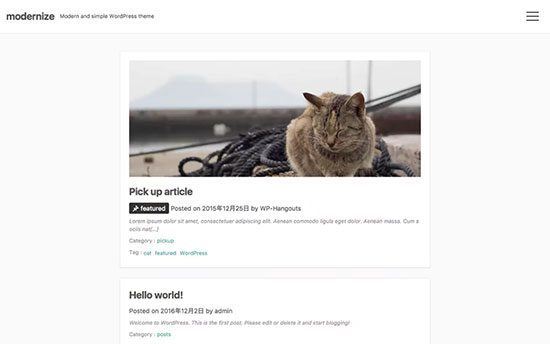 If you're in the market for a WordPress theme with a minimalist design, checkout Modernize. This theme is a simple WordPress blog theme with collapsible menus. It even comes with a choice of either one or two column layouts. Since this theme revolves around improving readability, it uses clean typography and elegantly handles featured images.
NISARG
Nisarg offers a clean layout with two navigation menus. As an added bonus, they also offer a large full-width header image that you can change. It even supports custom backgrounds and colors. All of this theme's options are easily customizable. Other features include multiple post formats for videos, gallery, audio, chat, aside, quote, etc.
HUEMAN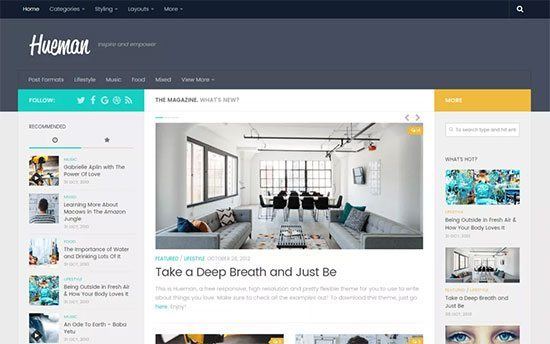 Hueman is actually one of the most popular WordPress themes, as far as free ones are concerned. This them comes with a multi-column layout. As you can see on both the left and right sides of the screenshot above. This theme can easily be used on any website that is rich with content. Such as blogs or magazine websites. What's even cooler is the fact that you can also get support for custom headers, two column layout, full width layout, and tons of easy customization options.
PEACEFUL
Peaceful is another modern/minimalist theme for WordPress blogs. It features a single column layout with a larger header image. It also offers a compact navigation menu with beautiful featured image. Not only is it quick and easy to set up, but it truly looks great on all devices and screen sizes.
SITEORIGIN UNWIND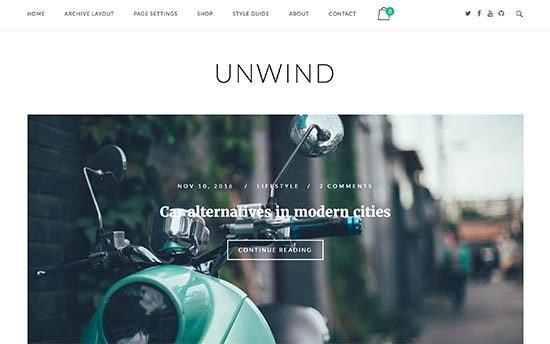 SiteOrigin Unwind is a cool, crisp theme that comes complete with WooCommerce support. This is yet another theme designed with minimalism in mind. Are you noticing a trend yet? This free multipurpose WordPress theme is extremely customizable with SiteOrigin's Page Builder plugin. It comes with several different layouts, a custom header, background and color support.
WRITEE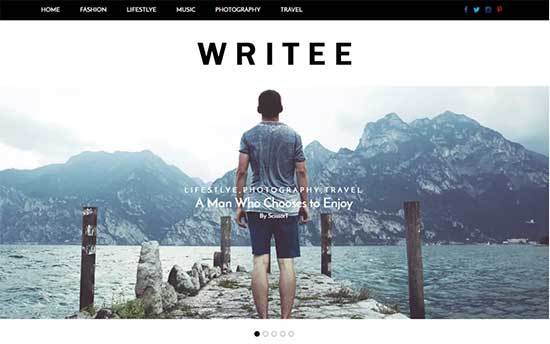 Writee is not only bold, but stunning as well. This theme is great for personal websites dedicated to travel and adventure. It features a large slider on the top that uses featured images from blog posts. This theme also comes with multiple templates and custom widgets. Not to mention a lot more features as well.
LIBRETTO
Libretto is the perfect for writers. This WordPress theme is specifically designed to feature long form writing, stories, poerty, etc. It uses beautiful typography with Playfair Display and Libre Baskerville fonts. It also uses elegant color schemes and features a distraction free single column layout.
SANSE
Sanse is a no frills, super fast theme. This super simple theme doesn't support featured images so if you want to focus on just text this free theme is the way to go. The homepage layout is just a grid where your posts and excerpts are featured. It has three widget areas in the footer and a solitary navigation bar nestled at the top.
MAGNUS
Magnus is a great theme for photographers or photography based bloggers. This theme uses the featured images of each post as a full screen header image. The homepage layout is nothing more than a featured image with post titles. It uses a single column layout for single posts. What's really great is that it has a collapsible sidebar, a navigation menu on top and also supports custom headers. However, you should consider using Magnus with Envira Gallery – which is a powerful WordPress gallery plugin.
FASHIONISTAS
Fashionistas is a WordPress theme for fashion and lifestyle blogs. It features a light design with beautiful typography and a gorgeous display of featured images. It comes with two separate navigation menus, a right sidebar and footer widget areas. As you can see, the right sidebar is a great place for social media links – which we all know is important.
CORAL DARK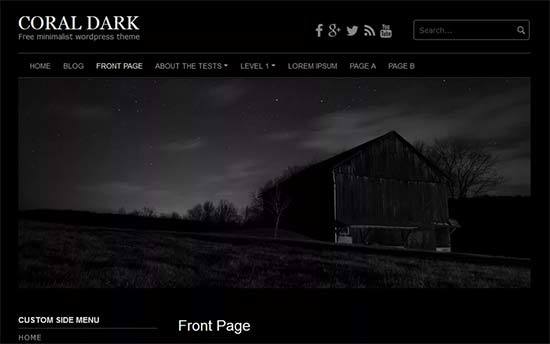 Coral Dark is the perfect theme for those who are looking for dark backgrounds. Sometimes standing out amongst a sea of white backgrounds can be a good thing. This theme has two layouts to choose from: one-column or two-column. It also has a built-in slideshow and comes with two widget ready areas. It even allows you to customize fonts and colors.
BARLETTA
Barletta is an elegant and light theme designed for any kind of blog. Whether your blog focuses on food, travel or is just a lifestyle blog, this free theme would work. Barletta focuses on improving both readability, all while gracefully displaying your images. It has a two column layout with a sidebar to the right. As an added bonus, it supports custom headers, background and a content slider on the homepage. This free theme is optimized to work with WooCommerce, Mailchimp and JetPack.
ZEAL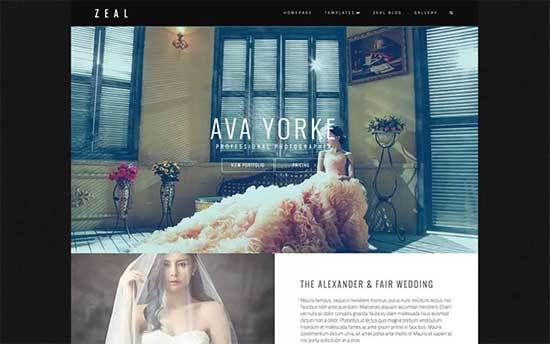 Zeal is a free theme for the creative types. This theme offers filter options, featured posts, multiple widget areas and stunning parallax effects. Zeal also supports custom headers, background and custom colors. We also love the fact that it has multiple widget ready areas and page templates.
SATORI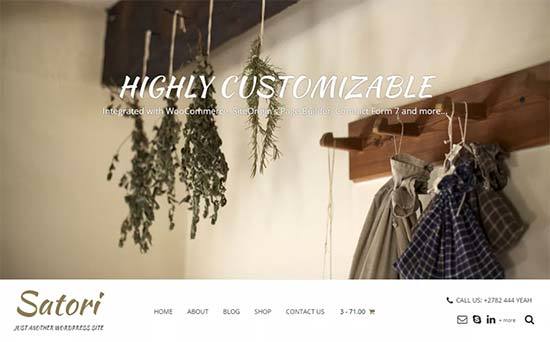 Satori is a highly customizable WordPress theme for personal websites and blogs. It offers a full-width header on the homepage and comes with different page templates. Probably the best feature of this theme is the fact that Satori is widget ready, supports WooCommerce and includes post formats.
ILLDY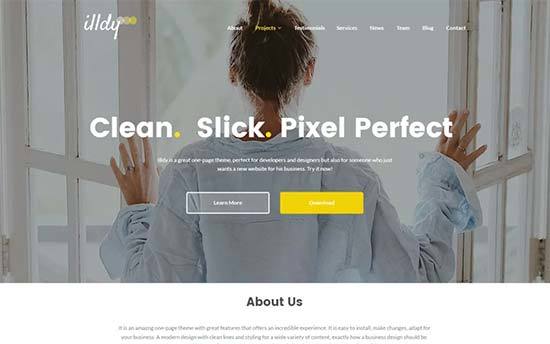 Illdy is a multi-purpose theme that's great for businesses. It's even great for magazine websites. This theme is built on bootstrap framework and features large header images, two column and full-width layout. Consequently, this theme allows you to customize the background as well as color selection.
TEMPO
Tempo is a modern WordPress blogging theme that can be easily used as a business website as well. It's features include crisp typography with a bright layout. In addition, this theme supports custom header, parallax, header buttons, custom logo, custom colors, custom background, social links, left and right sidebar, and custom widgets.
All of the WordPress themes listed above are truly great. However, there are a few things you need to consider when it comes to visually choosing a theme:
Strive for simplicity. As you can see above, many WordPress themes come with a lot of colors and layouts. Not to mention, some flashy animations. Sometimes the key is to look for the basics of what you really want (and need) in a website. Because in most cases, you don't need all of the bells and whistles.
Responsiveness isn't optional anymore. Responsive themes adjust their layouts across different screen sizes (and devices). This is important becauase a huge percentage of web traffic is generated from handheld devices. Therefore it's incredibly important to make sure that you choose a WordPress theme that is responsive.
Alright, so you've found the perfect WordPress theme. Don't click that install button just yet! Installing a new WordPress theme isn't rocket science. But before you change your theme, be sure to checkout what you should do first. You'll thank us later. Also, if you decide that installing a free WordPress theme might be too difficult, we can help! And if you still need more WordPress support? We offer it 24/7!
We hope this list helped you find the best free WordPress blog themes for your website. Have you used any of the themes shown above? Are there any that you see yourself using? Let us know in the comments below so we can discuss.