Images tend to be the forgotten SEO. Now we've talked about optimizing your blog for SEO, as well as creating keywords. But did you know that you can optimize your images for SEO too? This means that you can use your images to help improve your ranks in search engine results. This works for small businesses and bloggers too. So, if you aren't optimizing your images, you're missing out on free traffic to your blog or website.
There are countless ways that you can make your article easier to read on the web – lots of paragraph breaks, headings, subheadings, etc. But one of the best ways to make our content look attractive is with great images. But those images need to be properly optimized. This guide will bring a few things to your attention in regards to choosing your images and a step-by-step guide on how to optimize them. Let's get started!
HOW TO CHOOSE YOUR IMAGES
First things first, it's important to use images that are related to your content. This is specifically from a user experience point of view, because you don't want to baffle people with a random image choice. Your images also need to be good quality. In the correct aspect ratio with good resolution and a size large enough to be visible across all devices.
Another thing to consider is the use of stock photos. However, you have to be careful because the majority of stock images just might make your website look like a marketing brochure for a boring business. Not to mention the cheesy vibe that they give off. Therefore you need to be really careful, even if you think an image is copyright free. The original owner could still be Getty or Shutterstock.
There's really no need to pay for stock photos. Instead pay for your own photographer or take the photo yourself. But don't worry if you don't have the time or funds. There are plenty of free resources out there…
Free Image Sources
Unsplash. One of my favourites, Unsplash images are all copyright free – which is awesome. For the majority, these photos have a higher quality. There's a lot to choose from as well.
Google Image Search. When you search for an image, you can filter out the results that have copyrights. Click on Search Tool, Usage Rights and select Labeled for Reuse.
Flickr Creative Commons. You can use any photo that is labeled with a Creative Commons license. However, you have to give full credit as well as link to the Flickr profile of the person who took the photo.
Alright, so now you know some of the best ways to find images for your blog or website. The next step is to optimize those images for SEO. It really isn't all that hard. You just need to know where to start. These are simple actions that you can make to your images in order to increase your SEO. Let's take a look at them one by one.
HOW TO OPTIMIZE YOUR IMAGES FOR SEO In Six Steps
Step 1: Give Your Images Alt Text
Alt text is short for alternative text and it's essentially what helps search engines understand what an image is about. Alt text is extremely helpful when images on a page can't be found. These pieces of content help Google understand what your images and surrounding content are about. Which, as a result, helps you rank in image search.
If you upload a picture of cherry pie to your blog, it's clear to both you and your readers that image is of cherry pie. However, search engines can't actually see your image. This is where alt text comes into play. The search results can use the alt text and determine what the image is.
It's easy to edit your image's alt text too. In your media library (Media > Library) click on your image and place a short description of the image in the "alt text" box.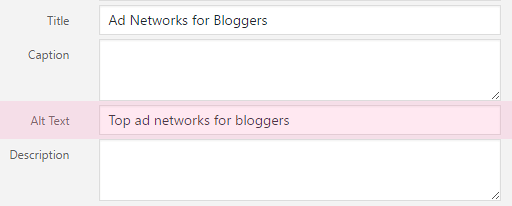 Alt attributes help you add SEO value to your website. It's important to add appropriate alt tags to the images on your site. Because your site will achieve better rankings in the search engines by associating keywords with images. If you own an online store, this approach really comes in handy. Alt tags are probably the best way for eCommerce products to show up in Google image and web search.
Here are some simple alt tag rules:
Describe your images in simple terms, just like you do for image file names.
Do not keyword stuff your alt tags (for example: alt="British candy free shipping buy now").
Don't use alt tags for decorative images. Search engines might penalize you for over-optimization.
Step 2: Title Your Images
Whenever you upload images to your blog or site, please, please, please don't ever keep the image's default title (such as IMG_6532) whenever you upload these images. It isn't helping with your SEO so you need to change it. So, the next time you save your image to your computer give it a descriptive name. For example, if you save an image of cherry pie, you can name the image "cherry-pie".
If you use WordPress, the best way to name your image title is to go to your media library, click on the image and insert your title in the title box.
You can also edit your title and alt text within your WordPress post by going into your post. Click on the image you want to name, click on the pencil icon and edit your title and alt text from there.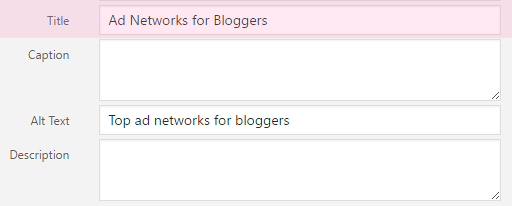 Step 3: Resize Your Images
You want to make sure that the overall size of your images aren't much larger than you actually need them to be. For example, your photos don't need to be larger than the width of your website or blog. It's unnecessary. Honestly, there's no reason for an image to be over 1,200 pixels in width on most sites. A standard image from your camera could be over 4,000 pixels wide. What a waste of space and load times!
You'll definitely want to resize your photo so it's not such a massive file. Huge image files can drag the page-load time of your site down and severely affect your rankings on search engines. So be sure to resize them before you upload. You can use a website like PicMonkey to resize your images for free.
There are three common file types that are used to post images: JPEG, GIF, and PNG.
For most situations, JPEGs are your best bet since they provide the best quality and the smallest file size. Gifs are much larger and there is no great way to reduce it. GIFs are better for thumbnails. PNGs are an awesome alternative to both JPEGs and GIFs due to their smaller size.
If you save your images as PNG files, you can use TinyPNG to reduce your file size without losing the image quality. Additionally, you might want to use a plugin like Compress JPEG & PNG images to compress your images in WordPress. A good rule of thumb for images is to keep your image file size below 70kb.
Step 4: Image Captions and SEO
Image captions are often overlooked by the person adding the image. But they can have a big impact on your visitors. But why are captions so important? People have a tendency to scan content, as opposed to reading it. And whenever they see images, they instinctively look at the caption. In fact, captions tend to get read more than the body of the text.
So, if you have an image that isn't there for decoration, it doesn't hurt to add an attention-grabbing caption. It will get your readers to pay attention and maybe even read more of your post. As a result, it will help your SEO because Google is watching how long people stay on your site.
Step 5: Image SEO Tools & Checkers
There are a few useful tools out there that can analyze your website and see if there are any image problems. They look for things like file size, filename, and alt text. Although most of them only focus on Alt Text.
Tools & Checkers:
Using these tools in the beginning can be very helpful. And once you get the hang of Image SEO you won't really need them anymore. It all takes practice. Trust me, all of the image SEO will, at some point, become second nature.
Step 6: Reclaim Your Burrowed Images
Sadly, people borrow people's images without even asking. In most cases it's not a big deal, but if you make a living from those images, it is. Either way there is one benefit to your SEO if people use your image IF you don't mind it: you can ask for a link back to your site. Links are the building blocks of SEO. So almost any link you can get is extremely helpful because it improves your rankings.
Luckily there is a way to reclaim your images. Every so often, you might feel the need to check on some of your own images. The main purpose is to see if your images are being used throughout the internet without proper credit being given.
Find your images. The first step of course is to find out if anyone is using your images. There are two tools that you can use to do what is called a "reverse image search".
Here are the tools:
These tools take your image and search the web for anything that is similar. Often they will find exact matches, especially if they have been misused.
Approach the website owner. Now that you've found your images on other sites, you can approach the owner and ask for a link or that they remove it. Naturally you have to find out how to contact them. Email will be your best bet.
The key here is to not be difficult, nasty, or accusatory. The last thing you want to do is create an issue. Just simply let them know that you "noticed" they used your image. That you have no problem with it, but you would like recognition in the form of a link back to your website. Done and done.
Images, the forgotten SEO.
As you can see there are a lot of different aspects to Image SEO, which you need to consider in order to get it all right. Now you don't have to do it all. Many of these changes on their own will help get your images found in searches. Which means your site or blog will get a lot more traffic as a result. So why not give some of them a try and shoot for doing all six steps. We hope this has helped! Before you know it, you'll be an image SEO pro.
Are you familiar with Image SEO? Have you done SEO for images before? Which techniques do you do the most? What were some of the results that you got? Were there any improvements? Let us know in the comments below so we can discuss.
If you need some more information on SEO checkout our following posts:
The Importance of SEO In A Blog Post
The Ultimate WordPress SEO Guide for Beginners