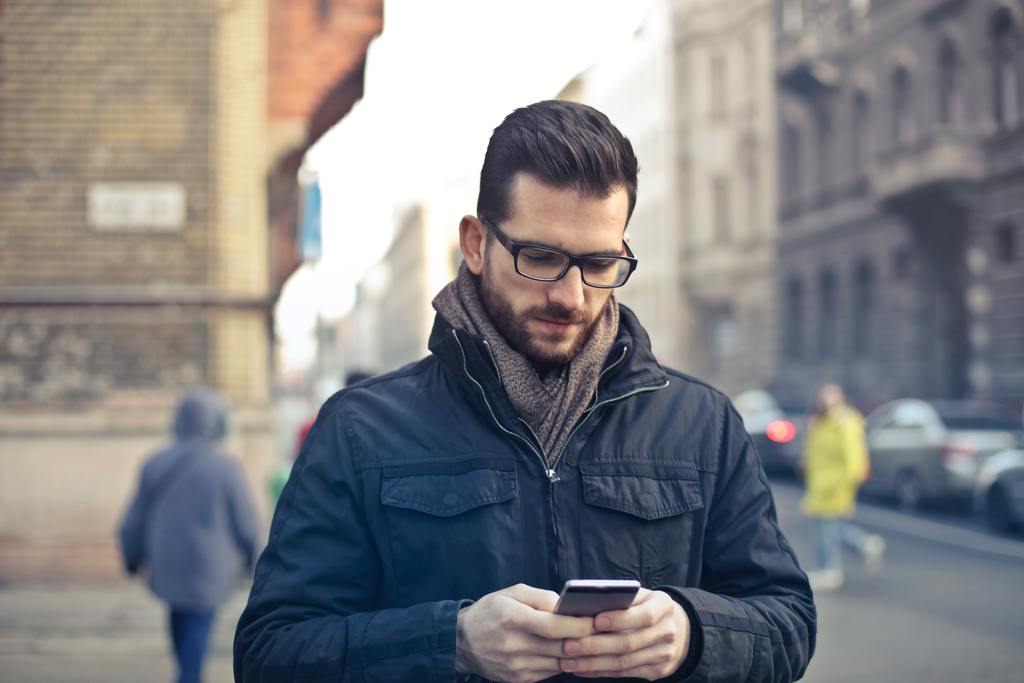 Cat's out of the bag, mobile traffic is continually on the rise. But you probably knew that already. According to Statista (2016), 43% of all website traffic worldwide is generated through mobile. Plus a usage report from comScore (2017) shows that mobile is now dominating desktop use. Surprisingly enough – some marketers still need to optimize their ads, images, and websites in order to achieve mobile success. This is where mobile-friendly content comes into play. Below are three of the quickest ways to make sure you're on the top of your mobile game.
The Quickest Way To Create Mobile-Friendly Content
1. Optimize Your Text
In order to create mobile-friendly content, you need to understand how people read content on their mobile devices. Below are some key differences between mobile reading and desktop reading. The following two view types (which can be seen below) have been accepted for desktop reading based on research trials…
Reading Patterns
The "golden triangle" is a viewing pattern when viewers primarily look at the upper left corner of a search engine page or website. Eye-tracking studies have found that the majority of rapid eye movement covers a triangular pattern.
The "F-shaped pattern" is a lot more popular, which occurs when users look at the top, left to right, down, left to ring again and then further down. Obviously, it makes the shape of an "F". However, this pattern doesn't apply to mobile readers at all. Mainly because there isn't enough screen space to accommodate such sweeping vertical and horizontal movements.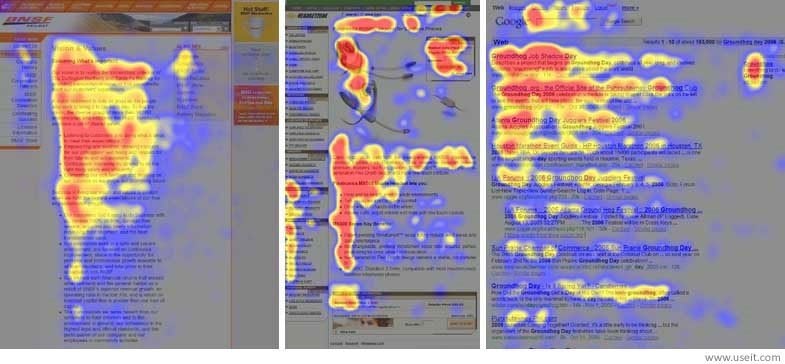 The image below shows that users give 68% of their attention to the center and top half of a mobile site and a full 86% to the upper tw0-thirds. Mainly because anything below this point on the screen is rarely viewed. However, you should keep in mind that you still need to optimize ALL of your content.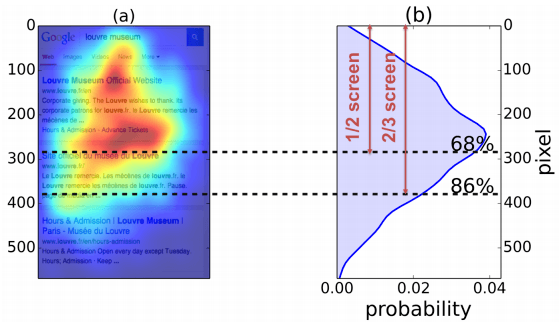 Best Practices for Mobile Copywriting
Content matters with mobile. Therefore you need to make sure that your content has the biggest impact possible. Below are a few steps to make sure you create the best content possible…
Headline: The headline should be short and sweet. That way it doesn't take up the majority of the device's screen. CoSchedule suggests that headlines with 6 words get the highest click-throughs. Their Emotional Marketing Value Headline Analyzer scores short headlines (up to 5 words) the highest. Luckily you can test your title's usability on a mobile device with CoSchedule's headline analyzer. Your mobile headline needs to quickly catch the user's attention AND give them a clear indication of what to expect from your content.
Summary: Some marketers are huge fans of including a summary at the top of their posts. You can also add a summary-type style into your first paragraph by clearly outlining what the reader will learn from the piece.
Body: "Chunking" is an awesome way to make your mobile content easier to consume. Chunking is when group related content into easily digestible bite-sized pieces or groups. The best way to do this is to make your content easily scannable. You can also focus on the following tactics: images, styling (bold, italics), subheaders, white space, and short paragraphs.
Use Shorter Words: You should also consider using more precise words in your mobile content. According to QuickSprout here are some of the words you can simplify all your content-not just mobile. Check out the list of 50 of the most used wordy phrases and their simpler alternatives. The Hemingway app is another great tool if you need help simplifying your content.
2. Optimize Images & Videos
Images are another great way to make your content more 'readable' when it comes to mobile devices. Screenshots, graphics, and memes add a visual appeal to your content that will keep users interested. But here's the catch (cause, of course, there's one) your images HAVE to be optimized for mobile. Otherwise, they take up too much real estate and can become illegible.
Eye Tracking Studies for Images
Studies have shown that mobile users look at images a lot more than the text. Take a look at the KG (knowledge graph) from Google below. It features the entity results, panels, and carousel summary.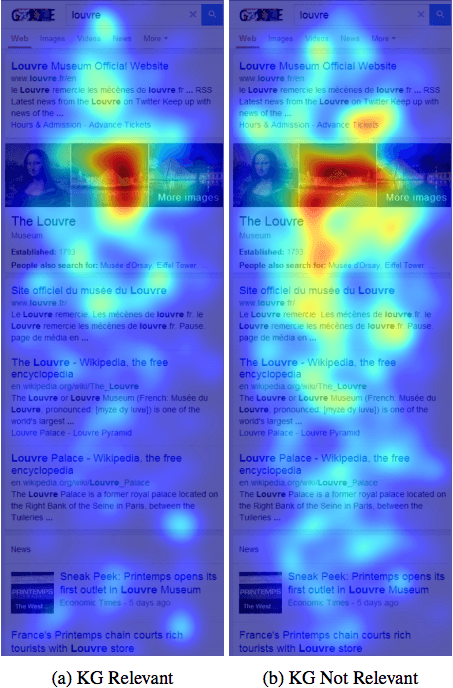 As you can see above, the user's eye is drawn more to the images, Query, content, intent, relevance, and location are essentially irrelevant to the principle that that human eye is drawn to images. Granted this can be good or bad. It's really good if your images add to your argument or make your point. However, it's bad if they are down-right distracting. In order to achieve the best results, you need to offer your most valuable information directly after an image on both mobile and desktop devices.
Don't Neglect Load Times & Images
Load times are the biggest factor when it comes to whether are not a user is going to engage with your content or move on. Your users need to see your content quickly – and slow load times are a huge drawback. Below are some of the best tips to make sure that your images load fast:
Use compression. Compression lets you take those gigantic files and make them smaller without altering the image's quality. Tools like TinyJpg does this properly, so be sure to try it out.
Look for a responsive resizing tool. If you use responsive images, lyDisplay will be your best friend. But we'll talk more about site responsive later.
Create pre-optimized images. There are a lot of tools out there that create pre-optimized images for email, social media, websites, and more. A tool like Canva can help you get started.
Now it might seem like common sense, but you need to run your content (images included) through a preview process. You need to use your mobile device to check and see if you have enough white space to keep content readable. Consider the user… would they want to read and view most of the content and images on the page? Do the images have a clear purpose?
Optimize Those Videos
Okay, videos are just as important as images. Here's why: 35% of mobile users watched more video last year than they did the previous year. 36% said they watched videos that were five minutes long or more every day. So if you want to encourage users to watch your videos, pay attention to the following two tips.
Create Readable Text: The text in your video needs to be readable on mobile devices. You also need to add a transcript of the video for those that like to read instead of listening. This can immensely increase the SEO value of your page because a lot of users play video without the audio. In fact, 85% of video on Facebook is played without sound. Make sure your video makes sense without it.
Optimize Your Tech: Whenever you embed a third-party video hosting service like YouTube or Vimeo on your site. The bitrates and compression are already optimized. But if you choose to host your own video, invest in a paid tool like Wistia or use Apple's HTTP Live Streaming.
3. Optimize Your Design
You might think that images and words don't really constitute design – but they actually kind of do. However, you'll have to follow a few technical steps in order to make mobile content work.
Responsive Design
I mentioned this not too long ago, but let's talk about what responsive design actually means. A lot of marketers incorrectly assume that mobile design is the same thing. But they're definitely not. Responsive design matters and it's something that is used across all platforms, at least it should be. This means that if the screen size changes, your content needs to change to fit within them.
What About Sidebars?
Sidebars are great when it comes to desktops. It's perfect for helping move the customer on the intended journey and improve the user's experience. But sidebars have absolutely no place on mobile devices. On mobile, they are nothing more than a distraction that usually gets pushed down to the bottom of the page. Which means it's rarely used.
So unless you have a fancy sidebar like Google did, it's a good idea to scrap it when it comes to mobile users. Check out this CrazyEgg blog for more info on how removing sidebars can increase your profits.
But there's one more thing you should know about. Navigation menus and other elements on your desktop site might also meet the same sad fate. Just make sure that you visit your site and see what's really valuable. If there are things that seem out of place remove it and add in what you deem important to your brand.
AMP (Accelerated Mobile Pages)
AMP pages might help you get ahead of the mobile marketing curve. These HTML pages were created by Google and its partner brands and the follow a format too. These pages get top-priority in the search results when mobile users conduct certain relevant queries. Most important, they are extremely fast. To see a demo, use your mobile device and search for something on g.co/ampdemo. You just might be surprised.
So… what did we learn? 😉
As mobile traffic continues to grow (and grow) it's really in your best interest to keep up with the trends. It's really the only way to ensure that you provide an excellent experience for your users – no matter what type of the device they are on. Are you interested in learning more about mobile-friendly content and marketing? Let us know in the comments below!