Domain strength and authority are one of the most important ranking factors in Google.
Why domain metrics matter?
Along with content, page speed, mobile usability, UX & UI and many others. But, every experienced SEO knows, that without strong and high-quality backlinks pointing to your domain – it would be really hard to get any organic traffic whatsoever.
Almost in every SEO process:
Guest posting
Link building
Outreach
you should analyze domain metrics.
For example, if you are doing guest posting. You should obviously aim only blogs with good domain metrics (high DA, low spam score) – as backlinks from those sites will be much more valuable.
Also, if you get a guest post from a blog with a high spam score or with a lot of low-quality backlinks pointing to it – it will be a bad signal for Google.
So, let's dive in.
1. Domain authority (DA)
Moz Domain authority is one of the most well-known domain metrics. Moz.com is one of the most well-known SEO platforms, co-founded by Rand Fishkin.
It ranges from 1 to 100 (the higher the better). Basically, DA predicts how well the site will rank in Google search.

Domain authority is based on the quality and quantity of backlinks pointing to your domain.
You can check domain authority with free Moz Chrome extension (there are many other SEO Chrome extensions) and on moz.com site.
In my experience, if you are doing a guest blogging campaign, try to target sites with DA > 25. After your site grows, go after 30-35 and more. Site, with DA 35 is already considered to have a strong backlink profile and therefore good potential to rank in Google.
2. Spam score
With free Moz tools, you can also check how many spammy links are pointing to your site.
Moz divides all backlinks into three groups: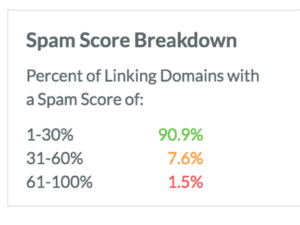 1-30% spam score
31-60%
61%-100%
If you have a lot of backlinks from the second and third group – it's not good. Your site is possibly on the brink of being penalized by Google. Or you can lose a lot of organic traffic after the next Google algorithm update.
The good thing is, that you can disavow all these bad guys – just export these links from Moz and add them in Search Console disavow tool.
3. Domain Rating (Ahrefs)
Similar to Domain Authority from Moz, there is Domain rating from Ahrefs – another very popular and useful SEO tool. One of my favorites. 🙂
It ranged from 1 to 100, the higher the better.
Domain rating reflects the strength of your backlink profile. It depends mainly on quality, not quantity, of backlinks. There are plenty of sites with thousands of low quality referring domains, and there are sites few hundred referring domains, but high-quality ones. Of course, in the second case, DR will be higher.
4. URL rating
While Domain rating tracks domains, URL rating – specific URLs.
If you didn't know, in fact, URL rating can be even more important than DR.
For specific page to rank in Google, you need backlinks to exactly that page, not just to domain or homepage.
Backlinks pointing to specific pages are the most valuable ones. It is a well-known fact, that backlink from a strong page and the weak domain is better than a backlink from a weak page and strong domain.
5. Number of referring domains
Also, in Ahrefs you check the number of linking domains to your domain. These are unique domains.
Also, there are referring pages and backlinks – these are all different concepts in SEO.
6. Number of referring pages
One referring domain can have several pages with many backlinks to your sites.
7. Number of backlinks
And each referring page can have multiple backlinks pointing to your site.
Therefore, one site might, for example, have hundred referring domains, few thousand referring pages and ten-hundred thousands of backlinks.
For example,
awesome.site – is a referring domain
awesome.site/about and awesome.site/partners – these are two referring pages
The first page has 1 backlink and second – two – therefore, there are 3 backlinks.
All these metrics can be easily checked with Ahrefs.
8. Ahrefs Rank
Ahrefs rank is a reflection of Domain rating, but it compares all websites against each other – the lower the better.
A website with Ahrefs rank 1 – has the strongest backlink profile on the Internet. Usually, these are websites like Youtube, Instagram, Facebook or Google.
The great thing about Ahrefs rank is that you can track how fast your Domain rating grows compared to other sites and especially your direct competitors. You can also see small correlations after every new backlink and therefore identify its quality.
9. Alexa rank
This rank reflects estimate traffic to the website. The lower the better.
Therefore you can compare your traffic with other sites. However, it is only relative metric and it is hard to estimate an exact number of monthly traffic from a position in Alexa rank.
There are many other metrics. But, in my experience, these are the main ones you will need in SEO outreach. Happy link hunting!