Starting n epic blog doesn't have to be hard and there are a lot of benefits starting one too. Awhile ago we discussed how a blog can actually HELP your business. But the key is to start a blog the right way. Because trust me, there is a right and a wrong way to when it comes down to it. My goal with this guide is to show you how to start a blog in 2017. Believe it or not, it's possible to have a blog up and running before you know it. Talk about instant gratification! However there are a few important details behind starting a successful one.
It's crucial that you start your blog the correct way, because a lot of things have changed in the blogosphere over the past few years. It's also important to lay a solid foundation for the future success of the blog. Yes, it takes dedication and time, but I'm sure that you knew that already. If you're new to blogging, then I'm sure that you have a lot of questions. So I hope this extensive guide will help. Let's get started!
Choose A Blog Platform
Alright, so you have an idea or a topic, or you just want to share your thoughts… What's the best way to start? Which platform do you choose? Free or paid? It's tempting to choose one of the many free blogging platforms like WordPress.com or Blogger. Free is great, but what's even better is figuring out which platform you will actually benefit from. If you're interested in WordPress, keep in mind that there is a difference between WordPress.com and WordPress.org. So pay attention below so there isn't any confusion.
Blogging platforms – free vs paid. Both Blogger and WordPress.com blogs can take a lot of control out of your hands. Which means that future flexibility could be limited. We all like free, but in this case there are some downsides. Both Blogger and WordPress.com blogs result in your giving up a lot of your control. Therefore future flexibility can become somewhat squelched. So if you think that you'll be blogging for the long haul (or you want to monetize your site) it's best to start with a self-hosted WordPress.org blog.
Seriously though, if you just want to blog for fun, Blogger and WordPress.com are not bad at all. What it really comes down to is: What Works For You and what you want to get out of blogging. The choice is yours! But for today, I'm going to focus on WordPress.org since it's the standard in the industry. And that isn't likely to change anytime soon.
Over at WordPress.org the number of tools, themes, add-ons and plugins abound. I mean, honestly the possibilities are endless. Which is great because you can create a site and blog that looks exactly the way that you want it to. And with all the functionality that you truly need.
Choose A Domain Name
Depending on who you are, this can be one of the most difficult tasks of starting a blog. You want to choose something that reflects what your blog will be about. As well as something that you will still love years from now. Luckily, there's a free tool that you can use while you're busy brainstorming. It's called Bust A Name and you can type in some keywords and it will give you the available combinations. It also let's you know if they're available in .com, .org, or .net.
Here are some tips when it comes to choosing a domain name:
Use a ".com" address whenever possible. Yes, there are a few successful ".org" blogs out there, but ".com" is the standard. Besides, it's easier for people to remember.
Avoid numbers and hyphens. Numbers confuse people because they never know if the number is spelled out whenever they hear the address. The same goes for hyphens, it's just harder to remember.
Stick to short, memorable domain names. I know it can be tempting to try and use a lot of words in your URL. Especially if you want to try and explain what your blog is about, but it isn't necessary. I swear!
Before you make your final decision, it's a good idea to also use an app like KnowEm. This is a social media profile checker that lets you see if your desired domain name is available or not. Don't get discouraged if your preferred name isn't available on many social networks. You can still create a profile with a slightly modified name.
Once you've chosen your name, it's time to register the name. It typically costs around $9 to $15 a year. A quick search will show you that there are a lot of companies where you can register your domain with. Keep in mind that if you have a lot of domains, you might want to consider NOT hosting them all through the same provider. It's an industry best practice to not put all of your eggs (websites) in one basket (providers).
Purchase A Host for Your Blog
Alright, so you've purchased a domain name. Now it's time to purchase your blog hosting. Your new hosting company is where all the files and content associated with your blog lives. When a reader types your new domain name into their browser, they see all your content. Which include articles and pictures too.
A good hosting company is incredibly important when you have a blog. Simply because it's where everything for your blog will stay. So, if your Host has problems, You have problems. Therefore you need to make sure that you choose a host that has stellar service and helpful customer support. Whoever you choose, hosting signup is fairly straightforward. So, you shouldn't have any issues.
Once WordPress is installed on your site, all you have to do to start blogging is go to your WP-Admin page. It's usually www.yourblognamehere.com/wp-admin
Understand the WordPress Dashboard
Alright, so you're site has WordPress installed and now you're ready to dive into WordPress. As you start to write and publish posts, you'll end up at the WordPress dashboard. At first all the settings and buttons can be a little overwhelming and downright intimidating. But after a few days or weeks you'll be a pro. To get you started, here are a few important parts of the WordPresss dashboard.
Below is the home screen of the dashboard. You can customize this page by clicking on the "Screen Options" button in the upper right hand corner of the screen: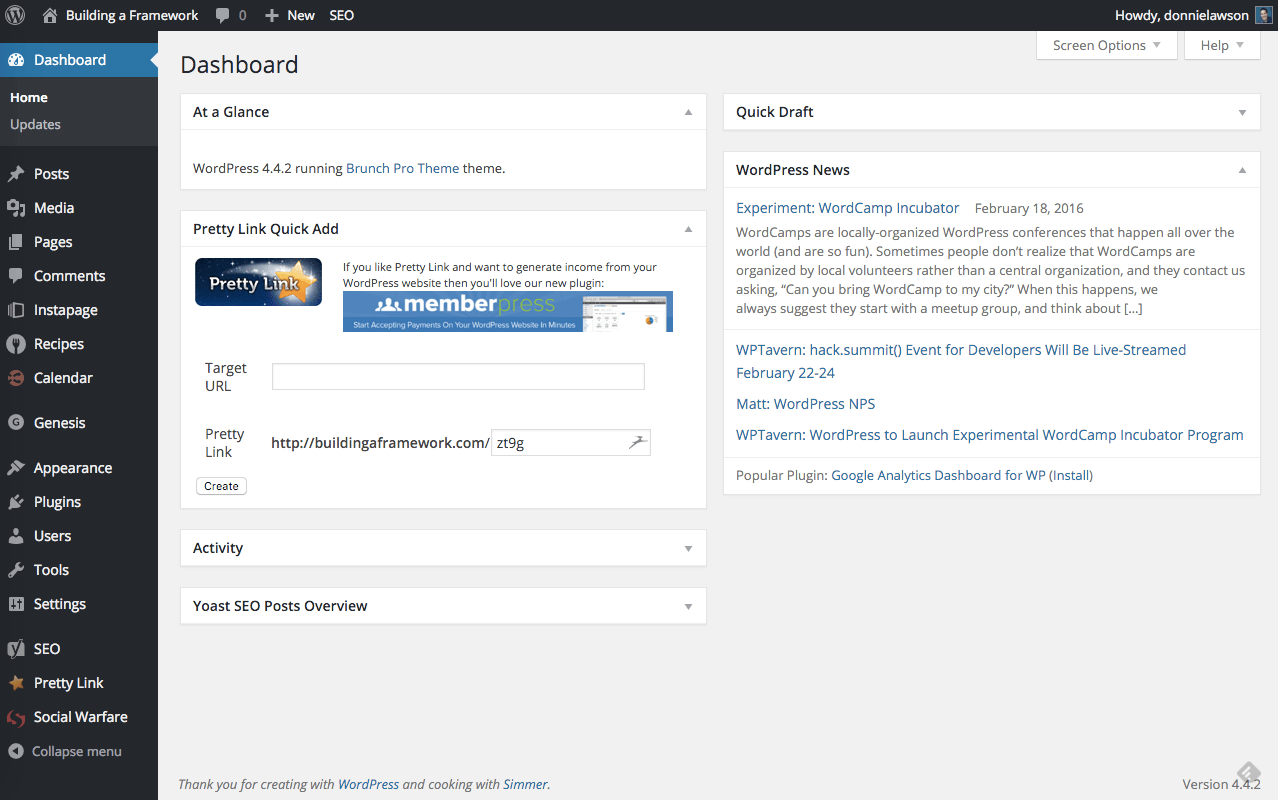 One of the first settings you'll want to change is the permalink structure. Click on "Settings" and then "Permalinks". Then select the "Post Name" option. It's important to make this change before you start publishing your posts. Because once you publish and have inbound links to your posts, complications can arise when you go to change the URL structure.
More Tabs To Get Familiar With
Next take a look at the "Plugins" section and the "Posts" tabs. The "Posts" section is where you compose and format your new blog posts. The "Pages" tab is where you compose your static and permanent pages of your site. Like your "about page," and "disclosure" policy. With WordPress, the primary difference between posts and pages is that posts are dated articles and the pages are not. Which means that posts will show up in your blog feed and pages will not.
Choose A Responsive WordPress Themes
After a domain name and [hosting], the next thing you need to do is find a responsive theme. It doesn't always need to cost money. There are a lot incredibly responsive ones that are free. I've talked about it over here before. As an added bonus, WordPress even comes with the 2015 and 2016 themes pre-installed. But as soon as you can swing it financially, a premium theme is something to consider. Mostly because it looks great right away with minimal customization. With more and more blogs starting every day, quality design is becoming really important to the success of blogging. And a premium WordPress theme will help you get that professional look even as a new blogger. Whenever it is time to change your theme, there are a few steps you should follow.
Install the Necessary WordPress Plugins
WordPress plugins make WordPress even better. Plugins are great because they let you add certain features to your blog without having to mess with any code. Although, the more plugins you have the more potential issues can occur. Like site speed, security, etc. So yes, plugins give you great functionality, but only install the ones you actually need. Here are a few to consider for your new blog:
1. Akismet This is a plugin to reduce/eliminate spam comments.
2. Yoast SEO. The standard as far as a WordPress SEO plugin goes. It will help you easily structure your blog posts so that they rank high in search results.
3. W3 Total Cache. This is "caching" plugin that will speed up your site. The settings for this plugin are pretty complicated, so if you use this plugin, be sure to ask your host what settings they recommend rather than trying to configure it yourself.
4. Genesis Simple Share. A pretty and lightweight plugin that adds social sharing buttons to your posts and pages.
5. Related Posts by Zemanta. Most bloggers have a love/hate relationship with "related post" plugins. The idea is that after a visitor reads your article they'll see a few different "related" articles on your site that may interest them.
You can search for and install all of these plugins directly from the "Plugins" tab within your WordPress dashboard.
Setup Google Analytics and Webmaster Tools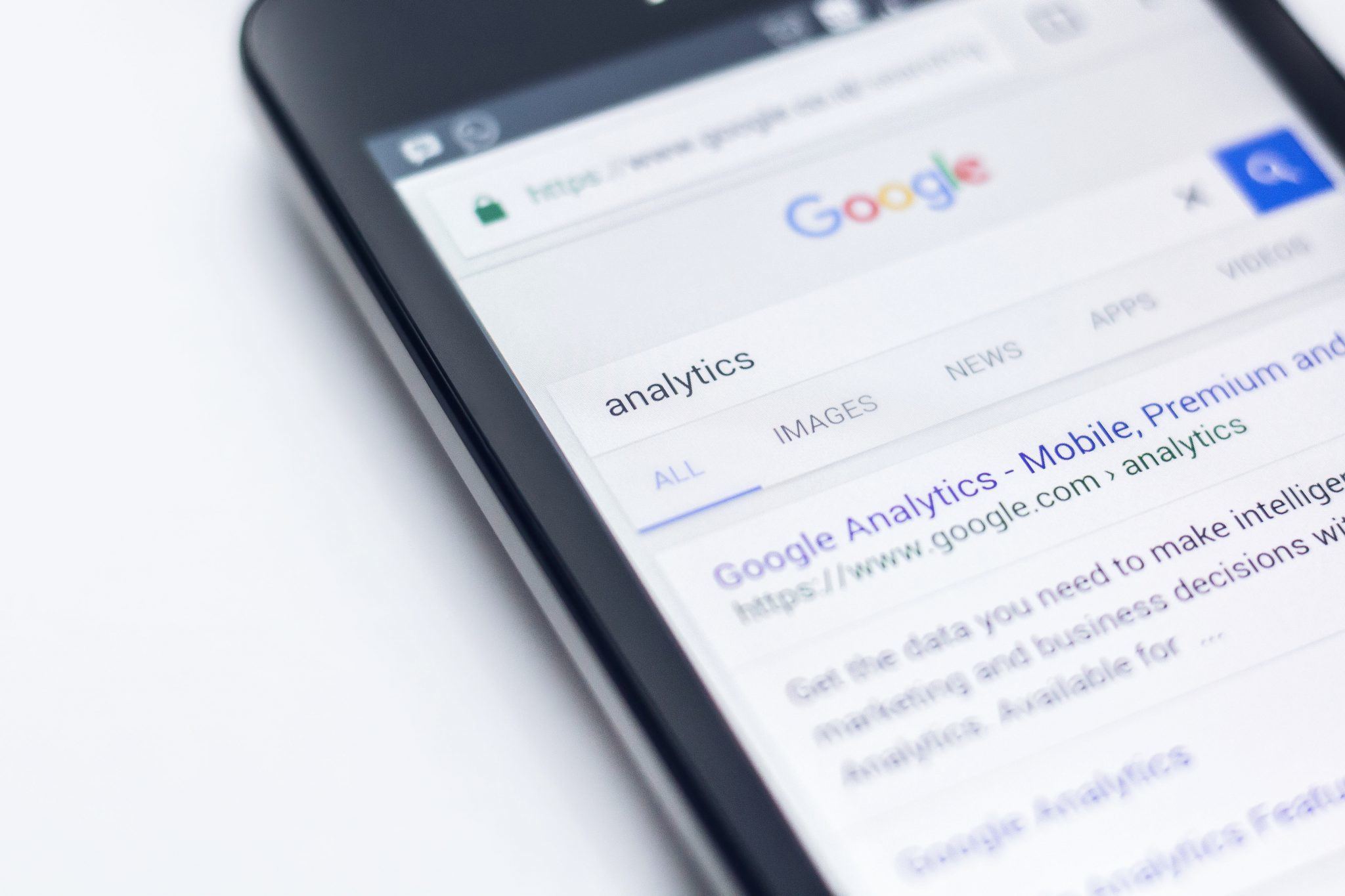 There are a couple of boring-but-necessary Google-related tasks that you need to take care of when you set up your new blog. The first task is to create a free Google Analytics account. This will give you powerful insight into your blog traffic and site activity. It isn't necessary to learn the ins and outs of Google Analytics yet. Just set up the account so you can track your pageviews.
Don't skip this step – brands and potential advertising partners will routinely request your stats. Which means they'll want to see data specifically from Google Analytics.
If you have a custom email address with Google Apps, I recommend using that account with Google Analytics. If not, you can create a Google Analytics account with your Gmail login information. Once you setup your free account, you'll receive some tracking code that you need to insert into your website. This is super easy, so don't worry!
The second Google task you need to do is to create a Google Webmaster Tools account and add it to your site. This will tell Google to start paying attention to the content you post on your site and over time it may help you to rank in Google for specific search terms.
There's no need to mess around with all of the settings in webmaster tools, but you should add a sitemap to your account. A sitemap is an .xml file that makes it easy for Google to index your content. The best way to create a sitemap is from right inside the Yoast SEO plugin that you already installed. Once your have the URL of your sitemap (ex: buildingaframework.com/sitemap_index.xml), you can add that URL to the sitemap section of your Google Webmaster tools account.
Pay Attention To Site Security and Backups
New bloggers often overlook basic backup and site security needs. To be honest, most bloggers don't pay much attention to this until several months into their blogging adventure. If at all! It's better to just take care of backup and site security at the beginning. That way you don't have to worry about those "worst case scenarios".
Daily backups are a must for your site. Even if it is rare that hosting servers completely lose your site or for your blog to get deleted somehow. Yes, it is rare. But not impossible. However what is very possible and more common is hacking attempts. Even malicious code – which can infect your site and all the thousands and various files along with it. Your site isn't technically lost if you have a backup or a good restore point.
No one wants to end up with a hacked site and no backup to start from scratch with. It would be terrible to throw in the "blogging towel" after an infected site and now backup. Especially when it is easily preventable.
Add Necessary Site Pages
Before you start posting on a regular basis, and before your official "launch," you need to create a few specific pages on your site:
Disclosure, Privacy and Comment Policy. If you ever want to earn money from your blog, you'll need some of these standard policies. In fact, Google requires them to be part of their Adsense program. Don't overthink it, but make sure you comply with the law.
A killer "about" or "about me" page. One of the most highly trafficked pages on your site by new visitors is your about page. Mainly because people want to get to know you and learn what your blog is all about. They want to know the voice behind the blog. So take some time to make this fun, interesting and engaging.
Create a contact page. You want your readers to have an easy way to contact you. That's why it's best to setup a dedicated contact page. You can either embed a form or just list ways in which they can get in contact with you. If you want to use an embeddable form for your "contact" page, consider using the free Typeform tool.
Other Things To Consider
Create social media accounts. In the early days of your blog, social media can be a big distraction. I recommend that you focus on building up one or two social channels at a time before spending time growing a presence on something else. Even if you don't have the time to focus on all of the social media channels at once, it's a good idea to get your names registered.
Publish great content on a regular basis. If all of the other steps up to this point were of normal importance, this step is extremely important! You simply won't have a successful blog if you're not spending at least 75% of your "blogging" time writing and posting high quality content. Especially when you first get started. This is crucial, but it's also the hardest part. It's hard to get into that creative mindset to write and publish even when you don't feel like it.
Promote your content. As a new blogger, it's necessary to find a good balance between creating content and promoting content. In the early days it may be 75% content creation and 25% content promotion. Over time as you build up your content, you could promote it about 50% of the time. Keep in mind that the best promotion strategy is useless if your content isn't good.
Whew! That was a lot, but in my eyes totally necessary. Blogging might seem pretty easy, but when you really get into it, there's a lot of work that goes into it. But it isn't impossible. The key is determination. And, if you've made it this far, you've got it! You definitely deserve some sort of medal or something!
Have you thought about starting a blog? Do you already have a blog? Any tips you'd like to share? Let us know in the comments below so we can discuss!