Google Analytics is an insanely powerful tool that gives users the ability to get insights into the behavior of the visitors that visit their site. In a previous post we discussed how to add Google Analytics to your WordPress site. So today we're going to focus on how to OPTIMIZE it. Learning how to optimize Google Analytics for WordPress is crucial. Especially when it comes to finding out how users interact with your site and which goals you aren't hitting. Ultimately it enables you to shape a unique marketing strategy for your whole online presence.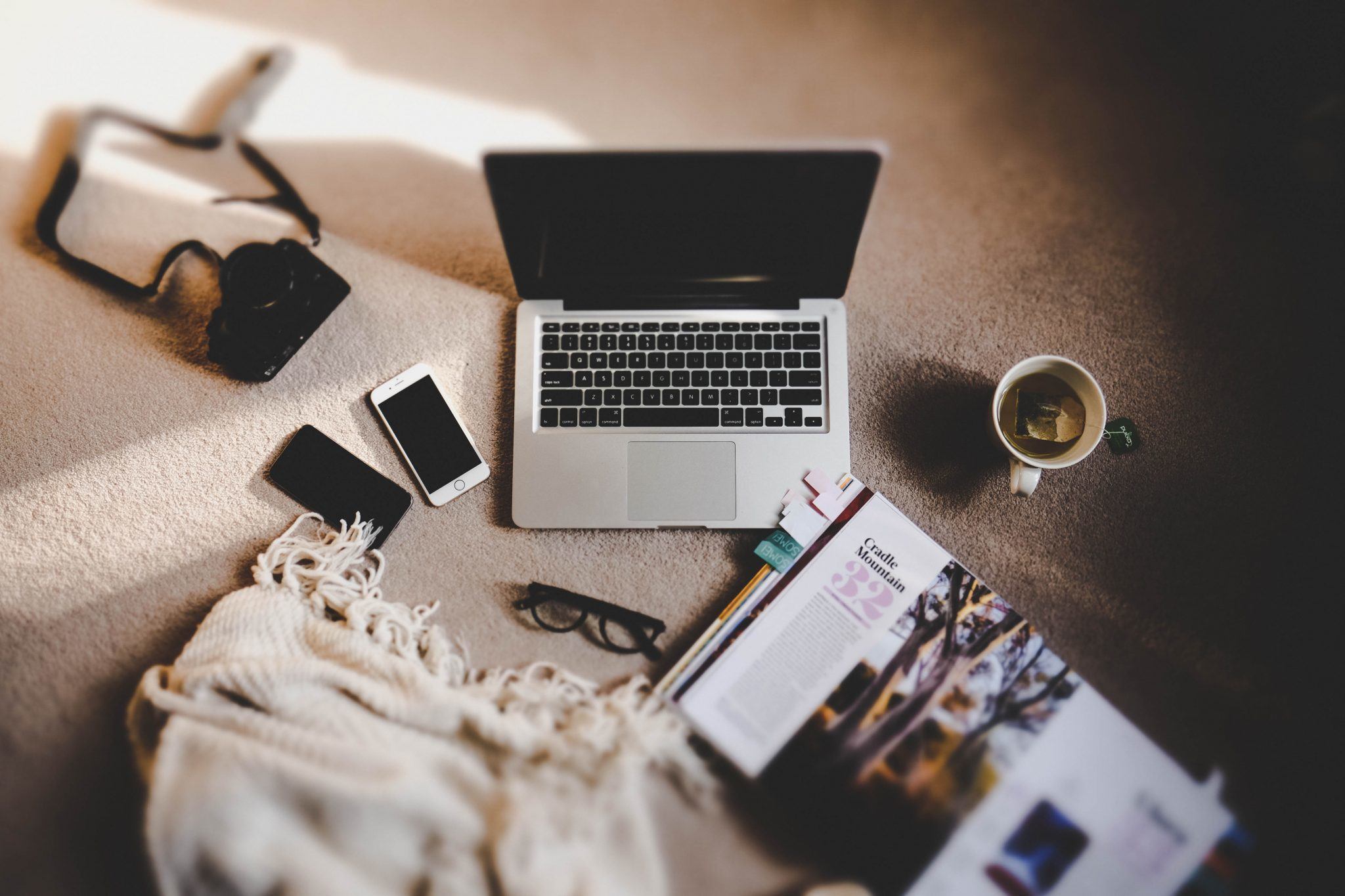 Surprisingly, there isn't a single official tool for integrating Google Analytics with WordPress. However there are tons of unofficial ones that get the job done. This time around we'll be taking a look at a few of these plugins. As well as sharing the process of setting goals for your site. If you need a little more information on WordPress plugins, head over here.
Step One: Optimize Google Analytics with the MonsterInsights Plugin
The MonsterInsights is the perfect plugin for WordPress in terms of Google Analytics. This plugin lets you track your stats easily with a metrics dashboard. You can even activate demographics and interest reports. As well as track your search results page. Which is pretty much everything you can do with Google Analytics. Best of all you can do this all from your WordPress dashboard. Which makes it super convenient.
Enable Demographic and Interest Reports

Demographic reports give you insight into who your users are based on specific categories. Such as their age, gender and parental status.
Interest reports enable you to categorize your audience according to their affinities for specific products, services, or – in our case – keywords.
First things first. Before you can reap the benefits on the plugin you need to head over to your Google Analytics account. Which, if you don't have one yet, now's the time. It's easy to set up – so don't worry. Just head over here. After you've signed up, look for the Reporting tab. Then go to Audience >> Demographics >> Overview. Once you're there you'll see the following screen: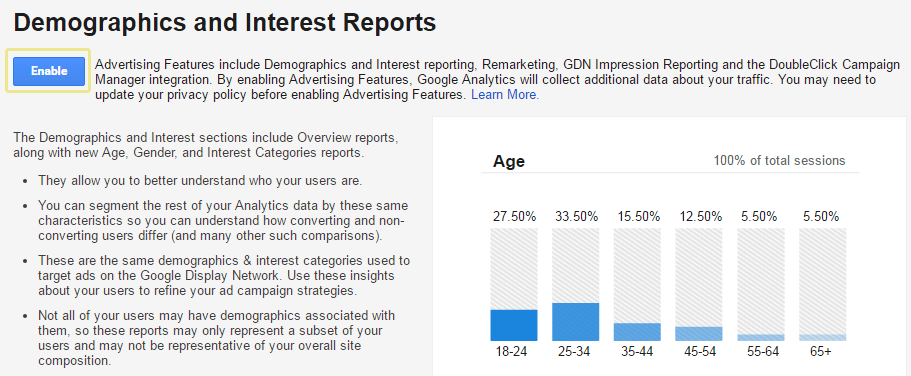 Then hit the Enable button and you're all set. Now it's time to turn the feature on within the plugin as well.
Now open your WordPress dashboard and locate the Insights tab, then go into its Settings screen. Check the Enable Demographics and Interests Reports for Remarketing and Advertising option:

Now you're all set! Just remember that it might take up to 24 hours before data is available.
Step Two: Install Complementary Plugins
Alright so, it goes without saying that MonsterInsights isn't the only plugin out there. Especially in terms of third-party improvements to the platform. In fact, when it comes to learning to optimize, there are two more to consider:
Reduce Bounce Rate This plugin introduces a simple tweak the modifies the method Google Analytics uses to track your bounce rate. By default, Google will count visitors who fail to engage with your site as 'bounced'. Which means that the time spent inside is zero. Even for they spend half an hour reading a sales page. As a result, what Reduce Bounce Rate does is send Google Analytics a bit of data every few seconds. Which enables it to count those slow-reading individuals as real visitors.
Better Google Analytics This plugin includes many of the same features as MonsterInsights. In fact it offers a few more into the mix. It lets you adjust the Google Analytics bounce rate. In addition, it allows you to track user registration and new comments. This plugin forces your analytics information to transfer over Secure Sockets Layer (SSL). As well as track social media engagement (ex. Facebook likes and Twitter followers).
Step Three: Setup Goals In Google Analytics
Every website has a goal. Whether it's to sell products, gain a following or promote other services, etc. Google Analytics enables you to track your goals through its aptly named Goals system. This determines whether the conditions for each goal have been met using the parameters you set. To find the Goals screen, you need go to your Admin tab on Google Analytics. Then click on the Goals item under the View column:
Once you're there, you can create new goals by choosing from a template of predetermined ones. Or you can create a custom one. Although there are many templates available, there are only four types of goals:
Reaching a specific URL.
Spending at least X time on a page.
Visiting at least X pages.
Completing a particular action/event (e.g. watching a video).
However, for each new goal, you need to set a specific set of requirements out of the four listed above. What this does is enable you to create incredibly specific goals using Google Analytics for WordPress. Such as tracking WooCommerce conversions using a destination goal (i.e. reaching a specific URL).
To do this, click on +New Goal. Then set the goal as Custom. You can specify an informative name and select Destination as its type:
Now select the destination itself.
Be sure to insert your post-purchase URL and click Save. That's it for your first goal! You could even do something very similar with your email signup confirmation screen (for tracking signups). Or to track the efficacy of calls to action and landing pages, etc.
OUTBOUND AND INTERNAL LINKING

Outbound and internal linking is really important when it comes to Google Analytics. And there's a good reason why… The Google Related Link Operator is like any other Google search. It asses which links are relevant to your site according to Google. A good related site link for your site will list all of the important and popular sites within your niche. Even a comment is counted as related links! So, if someone comments on every post published on your blog, they can be listed as a related site. That's why outbound linking is important. But so is internal. Let's take a moment to dive a little deeper, shall we?
Outbound Links
There are a great deal of ways in which you can create outbound links. My suggestion is that when you want to give an example or further explanation in your blog post, link out! Even if you link to Wikipedia!
Here are a few ways you can create outbound links and where to link to:
Pages that actually add value and cover the topic very well
Articles that have good page authority or domain authority
Articles which have a high number of social media share, though be sure to consider the site's authority
Other bloggers in your network or niche – this helps you create a community with fellow bloggers
When you use outbound links, make sure to use words that your reader might not be familiar with. It's also crucial to link to a good and reliable source. The only time to not to use outbound links is when YOU have a post on the topic. In that case it is totally fine (and encouraged) to interlink. However it is a good idea to keep bounce rate in mind. Be sure to always make outbound links open in a new tab.
Internal Linking
Alright so, internal linking is a normal hyperlink pointing from one page to other page within the same domain. Internal links are mostly used for navigational purposes. However, it should be noted that having some links pointing out to other sites is fine. There are a lot of benefits to internal linking, but the key is to not have too many. Here are some benefits to internal linking:
They are more user friendly as it helps users to navigate your site
It sends them to the most relevant pages within your site
Increased page views and increased conversion rates
Reduced bounce rates
Better crawling and indexing
The key here is to concentrate on more internal linking. Be sure to link out only to pages that are relevant to what you are talking about. You might want to link to fewer blogs and only to relevant blogs. Most importantly, make sure your content is useful and don't forget to take care of on-page optimization.
LINK DETOXING

Not all links are good, exploitative linking and links to/from questionable sources both negatively affect your SEO. You may need to clean up your links and ensure they are not hurting your site more than helping it. For a more in-depth look on this topic, check out: Link Detoxing & Why It Matters
ANALYTIC GOALS AMPED UP
Now the next step I'm going to talk about is the ultimate in analytics. Here's how you can optimize Google Analytics for WordPress at CodeinWP…
Those analytics goals can be truly powerful at times. Especially if you've been using them to track certain things like… all outbound clicks on the blog, clicks on the subscribe button and outbound affiliate links. This type of goal is important because they have a positive effect on SEO. I'm essentially talking about how outbound links can improve your site's ranking AND authority. Which is a really big deal.
Here's how we optimize Google Analytics for WordPress at CodeinWP:
Those Google Analytics goals can be really powerful at times. For instance, and from our personal experience, we've been using them to track things like: all outbound clicks on the blog, clicks on the subscribe button in our newsletter forms, and clicks on certain outbound affiliate links.
Let's get a bit more in-depth here, starting with:
Tracking Outbound Clicks
In case you're not familiar, tracking and measuring outbound links is somewhat of a hard thing to do in Google Analytics. Unfortunately there isn't a simple "track outbound clicks" button in the interface. And honestly, Google itself isn't really that helpful when it comes to it either. I mean, if you're google anything along the lines of "how to track outbound clicks with Google Analytics" you'll come across countless tutorials. Out of which, none are helpful. However, there is a way to get this done with little to no setup. But it does involve using an outdated plugin. So, if you want to emulate the method, you know the risks. The plugin is:
Step Four: Track Clicks with Track Everything Plugin
Just like the name suggests, this plugin tracks everything! The way this plugin operates is simple. Once you install and activate it, you'll need to set up "Events". This will then be reported in your Analytics panel. Most events are created by the plugin. However they do already give you insight into how people use your site. Though you can go further.
The "Event Actions" include category, action and label. Keep in mind that you can take those names and build specific analytic goals using them. So, for example, you can see that there's an action called "Outbound". This event gets triggered whenever someone clicks on an outbound link.

Next go to Google Analytics's Admin tab / Goals and add a simple new goal using that specific event. The only thing you need to do is turn that event into a goal is pick "Event" as the goal type and then put "Outbound" in the "Action" field.
This will take the "Event Action" called "Outbound" and tie it together with a new site goal. You can call that goal whatever you like. Now you can go to basically any Google Analytics report and add a goal column to it.
Now the really cool part… You can sort this list by ANYTHING… conversion value, rate, etc. This provides massive value and offers a pretty solid ground. Especially if you want to start comparing conversion rates. Here's the thing… without that outbound click tracking, you wouldn't even know what needs to be worked on. I really encourage you to enable this on your site too. It really is a great step to take if you want to optimize Google Analytics for WordPress.
As you can tell there are a lot of things to consider when it comes to Google Analytics in WordPress. We know that a lot goes into analytics, so if you need WordPress support, we offer it
24/7
!
Have you experienced any trouble integrating Google Analytics for WordPress? Did you attempt and found it was a little more advanced than you anticipated? Or have you made it work exactly like you needed it to? Let us know in the comments below so we can discuss!