Google AdWords is such a huge component when it comes to marketing for brands and small businesses alike. However, a lot of people don't know how or where to start. This will be a pretty thorough look at AdWords, so if you're new to it you're in the right place. But before you dive in head first, there are a few questions that you need to ask.
Question #1: Is AdWords right for your business?
Despite AdWord's many advantages, when compared to other mediums, it isn't always the best way to acquire new customers for EVERY business. For example, there are some instances where AdWords can be less effective -especially when you're advertising…
to an extremely targeted niche market where it's hard to target the market exclusively based on keywords – you'll end up blowing your whole budget on clicks from non-qualified prospects that aren't your target customer.
a product or service that the target market isn't aware of – this means that no one is searching for it online.
Another instance where your brand won't benefit is when…
you have a horrendous website (more on that later)
your market is far too competitive (ie. expensive) – if you're paying $20 every time someone clicks on one of your ads you better be selling a high-margin product or service. You also need to be very confident in your conversion rate. AdWords doesn't always work for industries like web design. It's just far too expensive to ever be cost-effective for most businesses
So yes, when it comes down to it, AdWords can work exceptionally well when you have all of your ducks in a row. And if you play your cards right, you can achieve a return on investment (ROI) of over 1000% using AdWords (for every dollar spent on advertising, $10 comes back to the company in revenue)!
Question #2: What are your goals?
It might sound easy, but a lot of brands start advertising without really taking the time to figure out what their goals are. Once you've set some well-defined goals, you'll be ahead of the curve. You'll also be able to make decisions based on the performance of your advertising in relation to your goals.
For example, if you're a brick and mortar business, your goal might be to generate 30 new customers per month. But you want your cost to be less than $300 ($10 cost per lead). For an online brand, your goal could be to generate $5,000 in revenue per month at an ROI of at least 175%.
Question #3: Do you have a good website designed with your goals in mind?
Alright, here's the thing. It DOESN'T matters how well you manage your AdWords account if you're sending visitors to a poorly designed website. What I mean is, if your website isn't designed with your brand's goals in mind, your advertising will more than likely NOT be profitable.
A common issue that a lot of brand's websites has is that it lacks a clear value proposition. This is essentially an explanation of why a prospective customer should buy your product or service. If there isn't a clear call-to-action as to what the visitor's next step is once they get to your site, your brand will suffer. The same thing goes if there are too many call-to-actions.
Question #4: Can you commit to AdWords?
One of the biggest advantages to adding AdWords to your marketing arsenal is that it lets you get started very quickly AND with hardly any initial investment. However, this can lead new advertisers to think that "AdWords doesn't work" after only a week of advertising. This usually happens because they're not getting the results they hoped for, but trust me it takes time. No matter what your budget is, you need to commit to AdWords for at least three months. After that, you can decide whether it's right for your business.
Hopefully, you've taken the time to seriously consider the questions above. Now it's time to make the next move and create your Google AdWords account.
Google AdWords for Beginners
First, you need to create an Adwords account. You can find instructions from Google here.
1. DON'T ACCEPT GOOGLE'S "HELP"
Once you've created your account, you'll start to receive the occasional email from Google offering to help you set up your advertising for you. Whatever you do, DON'T make this mistake. Here's why… when you set up AdWords your goal is to maximize your results (sales, leads, etc.) and minimize how much you spend on advertising. Google views it a lot differently, their main goal is to maximize the amount of money that you spend on advertising with them.
As a result, the advertising that they create for you will do the bare minimum to get you started and spend your pre-determined budget as quickly as possible. This all happens without using a number of important techniques that minimize wasted money. If you're actually ready to commit to making AdWords work for your business, which I'm sure you're here, you can do A LOT better by setting everything up yourself.
2. RESEARCH YOUR KEYWORDS
A proper keyword research and selection is crucial to the success of your AdWords advertising. But if you don't get this right, your advertising won't be profitable.
Build a keyword list and you should start with your website. The best place to start building your keyword list is your website. This will include the main terms that describe your business and its products/services. For reference, let's take a look at Warby Parker, an online retailer of glasses.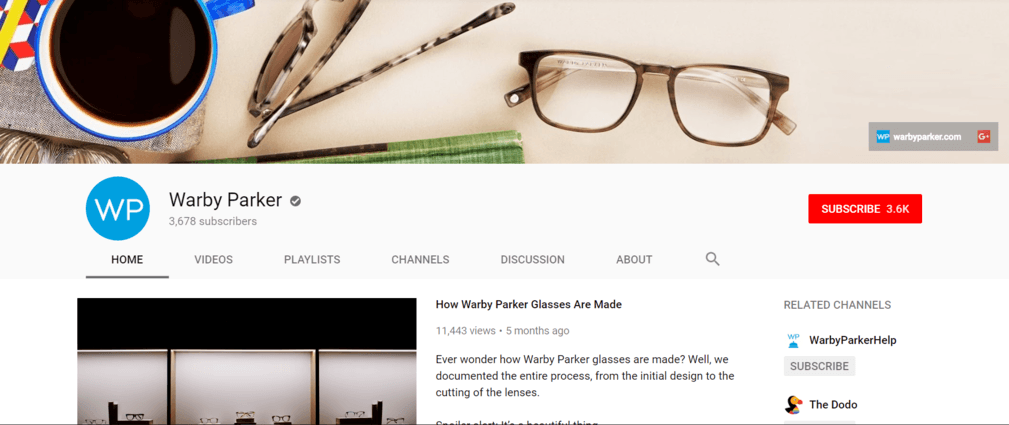 At first look, you can clearly see Warby Parker's categories and associated keywords:
eyeglasses
sunglasses
at home try-on
When you click on each category you have several options. Whenever you choose a category link the subcategories are separated into women and men. This is a perfect example of a clear call to action and one that leads potential customers through actions that lead to completing a sale.
Now's the time to take a look at your website, find your defined categories and make a list of them as keywords. You can even group them into the same categories you used on your website.
3. USE GOOGLE'S KEYWORDS TOOL
Now that you have your basic list of keywords for your brand's products or services, you can use the Google Keyword Tool to find related terms and phrases to develop an even better keywords list. This is incredibly important because your customers may use a variety of keywords and phrases whenever they look for your product or service.
Go ahead and enter each of the keywords from your website into the tool. Just make sure that location under Advanced Options is set to the country you are targeting. You can even select individual keywords by making sure you select the tab in the Keywords Ideas.
Google will then generate a list of related keywords, along with information for each keyword. Such as Search Volume, which is the number of people that search for the specific keyword every month. It will even include Average Cost Per Click, which is the average amount that advertisers are paying to display ads to people who search for a specific keyword. This will be helpful down the road whenever you choose which keywords from your list to advertise on.
From the list of related keywords, select each that looks suitable for your business, and once done, click Download and "My keyword ideas" to save them as a file.
4. Choose Your Keywords Carefully
It's never a good idea to throw any and all semi-relevant keywords into your account. Doing this will not result in more visitors and sales. There are four reasons why you shouldn't…
Cost – If this is your first time using AdWords you probably have a limited advertising budget. Even if you don't have a limited budget, you should at least wait until AdWords proves itself to be profitable. Here's the thing, the more keywords you have in your account, the more you'll end up spending on advertising. This is why it makes more sense to start with a smaller number of keywords that are more relevant to your business. You can always expand your keyword list later.
Quality Score – this is often the most difficult concept for those who are using AdWords for the first time. The higher your Quality Score, the less you have to pay per click for your ad in order for it to show up in a certain position on the search results page. So it's possible for a new advertiser with an ad in the first position on the page to pay less than a competitor in the second position. For more information on Quality Score head over here.
Relevance – The more relevant the keyword the better. You should also avoid using general keywords. For example, "men's dress shoes" is much better than "men's shoes". This is because a more relevant keyword will more than likely be used when searching for products of this nature.
Search Volume – Yes, it's important to focus on targeted keywords that are highly relevant to your business. But you need to strike a balance with your search volume – how many people are actually searching for the keyword on Google? The more targeted the keyword, the lower it's search volume.
For each keyword in an AdWords account, a "match type" should also be chosen. This controls which search queries are eligible to trigger your ad. The perfect match can make the difference between a highly profitable AdWords account and one that wastes money.
5. DON'T USE

ONLY

BROAD MATCH KEYWORDS
This is a common mistake among new advertisers because Broad Match is the default setting in AdWords. It's a mistake because you'll end up wasting your advertising budget on clicks that will NEVER convert. Which leads me to another thing, always be wary of Google's default settings. They're set to Google's objectives in mind – not yours. So what are you match type options?
Broad Match – this default option in AdWords lets you reach the largest number of people. But it also provides the least control over when your ads are shown. For example, if you use the keyword "men's shoes" you add will be displayed to people searching for "men's shoes", "men's shoes online", etc. In fact, you'll potentially end up with a wide variety of irrelevant search queries too.
Phrase Match – this gives you a lot more control than Broad Match but reaches a smaller audience. For a Phrase Match keyword to show your ad, someone has to enter a search into Google that contains your keyword in the same order that you typed it. For example, the phrase match keyword "men's shoes" results in your ad to be displayed to people who search for "men's shoes", "cheap women's' shoes" or "leather men's shoes".
Exact Match – this is the most targeted match type in AdWords and actually reaches the smallest number of people. In order for your ad to be displayed on an exact match keyword, someone needs to search for your keyword in Google just as you typed it.
So, which match type should you use?
It really depends on two things – your budget and desired reach. If you have a limited budget and want to make sure that your advertising makes you money as quickly as possible. You should start with the most exact match of keywords. Using a keyword phrase will give you the most control over when your ads are shown. This reduces wasted ads spent on non-converting keywords. But if you have a large budget and are okay with spending money to reach a larger number of people, you could start with all three match types.
6. Create Your Account Structure
You really need to take your time and correctly organize your AdWords account because it will make managing it a lot easier once you start advertising. So, how many campaigns do you need? There are many reasons why you should create multiple campaigns. These include separating advertising based on:
Different products or services
Various budgets
Geographical location
Network (this guide focuses only on the Search Network, however when using the Display Network you should always use separate campaigns)
Within each campaign, you'll need to create at least one ad group, which is a collection of keywords and ads. You should also aim for at least three ad groups per campaign.
7. Create Your First Campaign
Once you've chosen your keywords and choose an account structure, you're ready to create your first campaign. You'll be asked to choose from the following:
Search & Display Networks
Search Network Only
Display Network Only
This is where it's important to understand the difference between the Search and Display Networks because they function in very different ways. The Search Network is what you think of when you think of AdWords – ads displayed on a search results page when someone enters a search query in Google. Whereas the Display Network is Google's network of more than a million websites where AdWords can be displayed.
The way these two perform and function is very different because Search advertising (when done correctly) targets people who actively search for your products or services. Display advertising targets people who are browsing websites that contain content that is in some way related to what you are offering.
8. Write Compelling Ads
Whenever you start to write your ads you need to focus on the following:
Know your USP. A USP (Unique Selling Proposition) explains why a prospective customer should buy your product or service instead of a competitor's. When you include this in your ad it will set you apart for all of the other ads.
Think like the searcher. Try to imagine the person searching for one of your keywords. What do they want to know about your product/service? What are their concerns or objectives? Answer these anytime you create your ad and you're good to go.
Include your keyword. Ads that include your keyword, especially in the heading, tend to get more clicks than ads without it. This is because whenever a keyword in include in ad text, Google highlights the words in bold – which makes it a lot more eye-catching.
Don't forget your call-to-action. A CTA (call to action) tells the searcher what you want them to do once they get to your site. For an e-commerce site, it could be "Buy Online Now". This also helps filter out people who aren't going to take the action you want them to.
Follow Google's ad rules. If your ad doesn't meet Google's rules, it won't get approved. These include ad formatting rules and Google's general advertising policies.
9. Set Up Conversion Tracking
Access to the correct metrics is essential to when it comes to managing your AdWords account. Without them, there is no way of knowing if you've achieved your goals. Or which advertising is profitable and which isn't. AdWords provides conversion tracking tools that relate important data to what a searcher actually does after clicking on your ad. Whether they purchase, submit an inquiry, etc. This allows you to make advertising decisions based on what is actually getting results.
Once you've added conversion tracking, you'll have access to the following metrics:
Cost Per Conversion (how much are you paying for a sale, phone call, etc.)
Conversion Rate (what percentage of visitors are completing a transaction, contacting you, etc.)
Total Conversions (total number of transactions, phone calls, etc.)
After you have conversion tracking installed, you can easily identify where you're getting results and where you're not. You can then make changes where you need to. Without it, you're essentially wasting money. In order to use the Adwords conversion tracking, you'll need to add a piece of code to your website. You can find instructions from Google here.
10. Managing Your AdWords Account
That's it! Once you've finished all the steps listed above, you're finally ready to start advertising. However, it's important to note that your job isn't done yet. AdWords is definitely NOT a "set it and forget it" platform. It needs to be carefully monitored and managed. Especially when you're first starting out. And be sure to take a look at how Google's Divided Index might effect your business.
I know this might seem like a lot, but its the best way to get the most out of AdWords for your business. Hopefully, you're already using Google Analytics, it can help optimize your WordPress site. And if you need help adding it to your WordPress, head over here. As for Google AdWords, we'd love to know what you think! Was the guide useful? Let us know in the comments below.