Instagram is huge. I mean they do have a user base of 700 million! Best of all, Instagram isn't just for sharing photos anymore. It's now an incredibly influential social network with an audience that's rapidly growing. We've talked a little bit about Instagram marketing on here before. We've even discussed how to build your Instagram feed. But since then, Instagram has grown A LOT. Especially in regards to advertising. That's why today we'll cover everything you need to know about Instagram ads.
Everything You Need To Know About Instagram Ads
Recently Instagram has added some new advertising formats. They range from standard displayed ads in feeds or ads that run in between Instagram stories. That's why today we're sharing all six of Instagram's ad formats. So let's dive in!
Photo Ads
Photo ads on Instagram are their older and simplest format. These ads are built around a single photo, complete with extra fields such as descriptive text, a headline, and a link to your website. The photo ads show up in the feed, in between updates from the people your audience follows.
What makes them seamless is the fact that they look like a regular Instagram photo, except for the "sponsored message" and a call to action "Read More" button underneath the image. You can see this in the image below from ReadDogBooks.
Since photo ads are built around a single image, they're incredibly easy to create and test. Which is why they are a great option if you want to launch and test a variety of ads in order to determine what will do best. Thankfully you can do this at the beginning of a campaign without spending a lot of time on creative designs.
If you wondering what image to use in this type of ad, the best ones are the ones that visually stands out. That way your ad can get even more attention than one that is ho-hum. That is the real objective when it comes to Instagram ads.
Oh and to make things easier, you can create all Instagram ads using the Facebook Ads Manager. You can even add up to six different images at once. This is the best way to create and test a variety of different photo ads. Thankfully it's a simple process. And you can determine which one works best for your brand.
Carousel Ads
Instead of displaying a single image, carousel ads display two or more images. This gives users the option to scroll through different images by swiping left or right. You can use several images to show off one item or several items. One of the biggest advantages is that they let you showcase your product from more than one perspective.
For example, if you sell a multifunctional product, the carousel ads lets you display each of its functions in a single ad. It also lets you increase the relevancy of your ad. As a result, you can attract a wider audience!
Another bonus feature is that you can add different headlines to each image in your carousel ad. This is perfect when you need to touch on a wider variety of selling points and benefits with a simpler photo ad.
Slideshow Ads
This type of ad contains up to ten images that rotate in an animated sequence. Slideshow ads let your display several images so you can tell a story and effectively market your product. You can even add background music to your slideshow ad to turn those static images into an engaging video.
But compared to video ads, slideshow ads are incredibly lightweight. And since they contain a maximum of 10 frames, there are no issues as far as loading time are concerned. Another bonus is that they're also a lot cheaper and easier to create than video content.
Just take a look at this ad from West Elm where they use multiple images to display their different bedding styles.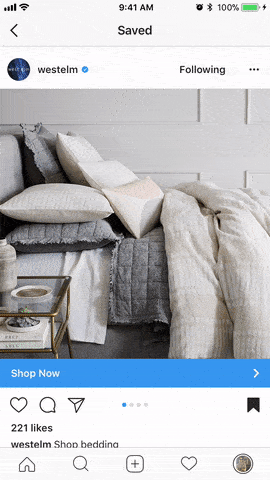 Pro: You can showcase multiple images or videos to keep users engaged longer.
Con: Run the risk of spending extra on additional visuals that might be skipped by users.
If you've determined what your top-performing images are and want to build on them WITHOUT creating a full video campaign, carousel ads are the way to go. Expanding them into a slideshow with supporting images is both quick, cheap, and a great way to enhance your Instagram Ads campaign.
Video Ads
These are ads that are built around a single video. Video ads were actually Instagram's first ad format (which premiered back in 2015). Nowadays they are still more popular than regular photo ads on Instagram. Here's why: six out of every 10 ads on the social network featuring video.
You can even create video ads using real video footage OR from an animated GIF. Instagram allows for videos up to 60 seconds. This gives you plenty of time to show your product in action or deliver a sales pitch.
When you compare video ads to photo and carousel ads, you have more of an opportunity to showcase how your product or service can actually be used. Video ads really are best for products that benefit from detail. So instead of limiting yourself to a single image, you can expand your ad to showcase your product in different settings or use the product in a variety of ways.
However, video ads are harder to create than photo ads. They're best used later on in your campaign. So if you're new to advertising with Instagram, you might want to start your campaign with a variety of different photo ads before diving into video ads. Once you've gotten some experience, you can develop the ones that work best into short videos or animated GIFS.
Video Carousel Ads
Okay, so this isn't TECHNICALLY an ad format, but Instagram does allow you to add video to carousel ads to create video carousel ads. These can be made up of a variety of several videos or a blend of videos with static photos. This gives you a variety of creative ad options to choose from.
Video carousel ads let you showcase a more immersive and engaging content than your traditional photo ad. The carousel format also gives you the chance to show several aspects of your product in a single ad. This helps you achieve a higher response rate too!
Instagram Story Ads
Instead of your ad showing up in users feeds, Instagram story ads appear within Instagram Stories. These story ads let you display your message in an immersive, full-screen format. Which is great because they don't have the added distraction from other content that can affect engagement. Like feed ads, Stories ads can be created in several formats. Let's take a look at them below…
1. Single Image Ads
As the name suggests, these single images appear in a user's story feed. Much like photo ads that appear in the feed, these ads are super easy to create and inexpensive. Besides they're an awesome gateway to advertising with Instagram Stories.
However single images do have benefits and limitations. And since they show up in between stories, you can get the user's full attention – without distractions. Or the ability to scroll down past your ad like you can in the standard news feed.
But by far, the biggest downside of a single image Instagram Story ads is the lack of customization. With no headlines, body text or call to action buttons, you're limited to JUST your image. Therefore you need to make sure that you choose the right one for your campaign. Thankfully Instagram lets you add text to your stories so you're actually able to get around the lack of customization options by adding your copy directly to your image.
2. Single Video Ads
If you want to display a video or animated GIF (that is 15 seconds or less) single video ads give you the chance to speak directly to your audience. Or show off your product without distractions.
Unlike regular Instagram video ads, Instagram Stories with a single video ad plays automatically. And since they take up the entire screen (and run between other video content in the feed) these ads are perfect if you want to reach your audience in a more engaging format.
However, with single video ads, there isn't much room for customization. However, you can add overlay text and icons to your video. Just like you can with non-advertising Instagram Stories content.
You can also create Snapchat-style video ad content with a more realistic, everyday feel so it seamlessly blends in and reaches your audience with advertising that doesn't feel like traditional advertising.
Is Instagram ads right for your brand?
Instagram is one of the social networks that has been growing and rapidly. And since you can easily create ads directly from Facebook Ads Manager, getting started is easier than ever. But is Instagram right for YOUR brand? From the conventional image to video and carousel ads – the options for marketing your brand on Instagram are incredibly diverse. And this wide variety of ad formats and targeting options make Instagram one of the top ad platforms to consider.
Best of all, you can now use Instagram story highlights to build your conversions. So yes, Instagram really is a great addition to your digital marketing strategy and here's why…
Build Brand Recognition
Instagram is a great way to set yourself apart from the competition. You can reach out and engage with potential customers with stunning photos and helpful information. All of this lets them get to know you and your products, without a hard sell approach.
Tell A Unique Story
Nowadays people are looking for more than a feed filled with products or service pitches. They want an overall experience, which is why Instagram is the perfect place to show off your storytelling skills. Whenever you post stunning photos, you are connecting customers with your brand and sharing your unique story.
Gain More Engagement
Instagram's audience tends to be more attentive and engaged. Forrester Research reported in a recent study that Instagram users are 58 times more likely to like, share, or comment on a company's Instagram post than a similar post on Facebook. But why does this work?
Luckily getting started with Instagram is just as easy and setting up an ad. If you're interested, be sure to check out our Ultimate Guide To Marketing with Instagram. If you have any other questions, or you'd like to share your experience with Instagram, let us know in the comments below. That way we can discuss!