This past year has been a whirlwind of exciting ventures in the world of digital marketing. We've seen Instagram become the leader of the pack and discussed how to deal with Facebook's news feed algorithm. Social media has changed, brought new trends, and implemented some unspoken rules each time a new year starts. It's not like these changes are sudden or unexpected. They're usually gradual and pretty predictable. I mean who was all the surprised when Google+ shut down?
For our last article of 2018, I figured I'd dive into some of the top digital marketing trends for 2019. Keep in mind that some of them are already in place, growing slowly, just waiting for the hype. While others are huge and expected to even more prominent in the coming year.
The Top Digital Marketing Trends for 2019
1. Social Listening
Also known as monitoring, social listening is the act of crawling both the web and social media platforms. This is done as a way to find any and all mentions of a brand (or other keywords). This includes untagged brand mentions on social media and industry keywords related to interest in a product. It even searches through blogs, forums, and news sites. The current goal of social listening is for customer service and reputation management. But trust me, there are a lot more.
Social listening can help you…
Find new clients
Make a better product
Learn more about your clients
Improve your customer service
Keep an eye on your competition
Create targeted, high converting ads
Market your products through industry influencers
But what will social listening look like in 2019? The real trend is all about using it for lead generation and social selling. So far, there are only a few brands that do this. However, the number is steadily rising as more and more marketers discover that they can actually find people who are specifically looking for the services that they offer on social media.
A lot of tools are even rolling out features that are made for lead generation. Just take a look at what Awario is doing…
This trend will only continue to increase. Why? Because people won't stop sharing their frustrations, ideas, and recommendations online anytime soon. So yes, social listening will continue to grow and expand to include even more possibilities as the years go by. If you'd like to start with social listening before the new year, check out this list of tools.
2. Video Content
This one definitely shouldn't come as a surprise. Every year, video content grows and grows. But this coming year, it's expected to completely dominate the market. In fact, according to some experts, 80% of what we consume online will soon be video content.
This definitely applies to live videos. They've already been popular on YouTube, but now it's taken over Facebook AND Instagram. So much so, that you can get a notification whenever someone is about to go live! Brands of all sizes should take note too because this trend is definitely one you don't want to ignore.
The authentic and ephemeral nature of live videos makes them especially attractive. It's something that a lot of social media users see as meaningful. And this is great news for brands because live videos increase the perceived trustworthiness and relevance of your brand.
The real reason that videos have become more and more popular is the fact that it's getting easier to film. If you're worried about the quality, just know what your audience will be rather forgiving. It's understood that live videos are spontaneous (and naturally things can go wrong) but you should always try your best to avoid any technical problems whenever you can.
3. Micro-Influencers
In the past few years, social media influencers have become an enormous trend. There's Instagram stars, mom-influencers, Twitter influencers, and YouTube millionaires. These people have millions of followers and it's growing like mad. Every post, vlog or tweet is instantly seen by more people than TV ad makers could even shake a stick at. This type of marketing really is revolutionary, especially now that it's clear to everyone.
However, now that the number of social media influencers have grown, prices for their services have also risen. Therefore a lot of brands are now looking into other alternatives like micro-influencer marketing.
So what is a micro-influencer?
A micro-influencer is someone that has less than 10,000 followers. Most of the time, they will apply to become an influencer on platforms like Tribe and Takumi. The type of people that fall into the micro-influencer pool are the ones that pride themselves on the aesthetic appeal of their social media accounts. It's those Instagram users that have a good eye for photography.
How Micro Influencers Works
Brands submit tailored briefs to these online influencers
Vetted and relevant influencers then respond to the briefs
The good thing about micro-influencers is that they're authentic, lower-priced, and the campaigns are incredibly easy to execute. Just keep in mind that there is a downside to this type of marketing… capped visibility and reach.
Thankfully though, micro-influencers exist in practically every marketing niche. Yes, their following is less than 10,000 but most of their followers are interested in what they have to say. And as a result, they are actually experts in their niche. And since they aren't massively sought after by advertisers, they are rather trustworthy. That means that the marketing potential is very high for marketers come 2019.
4. Personalization
Consider this, there's a vast amount of information that's uploaded each day… It's become incredibly easy to get insights into all sorts of information about people behind the screen. This is where enhanced personalization comes into play. As a result, it's increased consumer expectation essentially everywhere. Nowadays, everything can be personalized. And that's what everyone wants. Plus it's a great way for marketers to boost the performance of their campaigns.
From content to products, even to emails! All of it can be based on the consumer's clicked links, purchase history, social media posts, and other behavior. Companies now have the ability to notify their consumers of all kinds of things. For example, if you have Netflix you already know that they offer shows to watch based on your taste. Amazon does the same thing, but with products similar to ones you've bought before.
Even though personalized marketing can be a little unsettling (especially when you think about all the info companies have one you) it's also convenient for the user. And customers are not likely to give up that sort of benefit anytime soon.
As much as 96% of marketers believe that personalization advances customer relationship. Sure customers might worry about privacy risk, but they still appreciate the suggested product they've been searching for. As well as the notification of the upcoming sale at their favorite shop.
5. Timeliness
The future of marketing is real-time communication. If you think about it, it makes sense. Everyone is connected and the instant-response is something that can set brands apart. This extends into social media by way of 24/7 customer support, real-time social selling, chatbots, and constant monitoring of a potential crisis.
But why is this even a big deal? Because social media never sleeps. Customers continue to use your products, buy new items, and talk about them at any given moment. Granted this has been happening for a while now. And thankfully, technology has finally caught up. Now there are a plethora of tools that look for mentions of a brand in real time. There are even tools that schedule content to post whenever you want it to. Another plus about chatbots? They offer immediate help, which customers absolutely love.
So what can we expect in 2019 as far as timeliness is concerned? Consumers will want their complaint on Twitter to be automatically responded too. And if you don't immediately reply, don't be surprised if you get another negative comment. People want their problems solver and their needs met and right away.
6. Artificial Intelligence & Programmatic Advertising
AI has the ability to analyze consumer behavior and search patterns, utilize data from social media platforms and blogs posts. It can really help a brand understand how users and customers find their product and services. This is crucial because it can take a lot of guesswork out of marketing.
Artificial intelligence also offers information and tips to users by getting into conversations. According to Gartner, 25% of customer service will use chatbot technology by 2020, up from less than 2% in 2017.
With AI you can dive into programmatic advertising. Artificial intelligence can automate your ad buying experience so you can target more specific audiences. For example, real-time auction is a type of programmatic ad buying. This type of automation is a lot more efficient and fast. That means you'll get higher conversions and lower customer acquisition costs.
It's changing the face of digital advertising so swiftly that, according to eMarketer, almost 90% of digital display ads in the U.S. will be programmatic by 2020.
7. Visual Search
If you want to take the user experience to a new level, start using visual search. With visual search, users can upload an image to conduct a search and get more specific results. Pinterest has jumped on the visual search bandwagon and introduced Lens. This new visual search tool allows users to take a photo of an item to find out where to buy it online, search for similar products, or view pinboards of related items.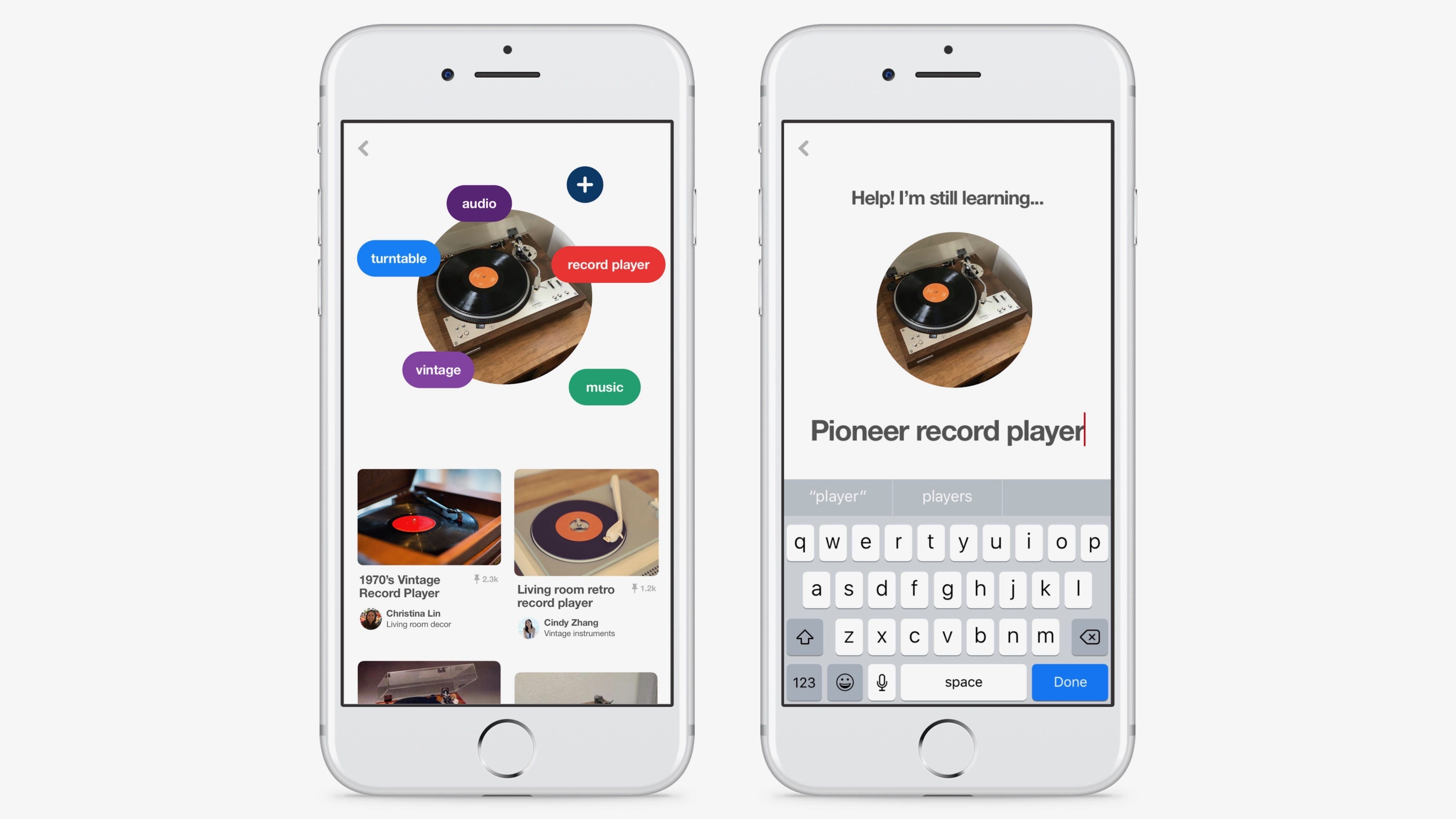 But Pinterest isn't the only one with visual search…
Google Lens recognizes objects, landmarks, and other things visually through a camera app. However, it's only currently available on Pixel phones.
If you take a photo of a:
Book: You can get reviews and other details about it.
Painting in a museum: You can get details about it.
Landmark or building: You can get more details about it.
Business card: You can save the phone number or address to a contact.
And CamFind is a visual search mobile app that lets users search for anything from their mobile phones simply by snapping a picture. The app then tells you what it is. Instead of typing queries into a search engine, you can directly search through images to find similar images, price comparisons, local shopping results, etc. The possibilities are endless.
8. Micro-Moments
Did you know that people spend an average of 3 hours and 35 minutes on their smartphones every day? And we're betting that by 2019, mobile devices will be the medium that gets the most minutes in the U.S. Smell ya later, TV! As a result, this changes the way a brand can capture a buyers' attention.
Say hello to Micro-Moments. This is definitely a "new consumer behavior," as termed by Google, that delivers your marketing message in a way that interests the consumers. All within a span of seconds. Because if they don't, they lose their attention and are onto the next article!
People generally make instant decisions on what to eat, which restaurant to choose, what to purchase, or where to go, so Micro-Moments that every marketer should know about are:
I want to go moments
I want to do moments
I want to buy moments
I want to know moments
It's definitely a good idea to take advantage of micro-moments in 2019. That way you can be where consumers search for information at the moment they need it. Like Google, Google Maps, Amazon, YouTube, and anywhere else people search for information at a moment's notice.
Get Ready To Say Hello to 2019
With 2019 on the horizon, it's time to get a list of things you'd like to try. This coming year will be full of new avenues of digital marketers. And everyone will benefit from them! What do you think will be the biggest trend from this list? Let us know in the comments below so we can discuss!