Content marketing is a serious deal and thankfully there a few ways to go about it. But when it comes down to it, you have to do it right. Don't get too discouraged yet. Because there are a lot of brands that are actually doing it wrong. Sure, they publish a lot of posts with the right amount of words, but sometimes it doesn't convert. For example, if you find that nothing you do seems to drive readers to take action – you might be doing it wrong. Hopefully this doesn't sound familiar. But if it does, you might be guilty of a basic mistake. One that could be holding your brand back from being successful.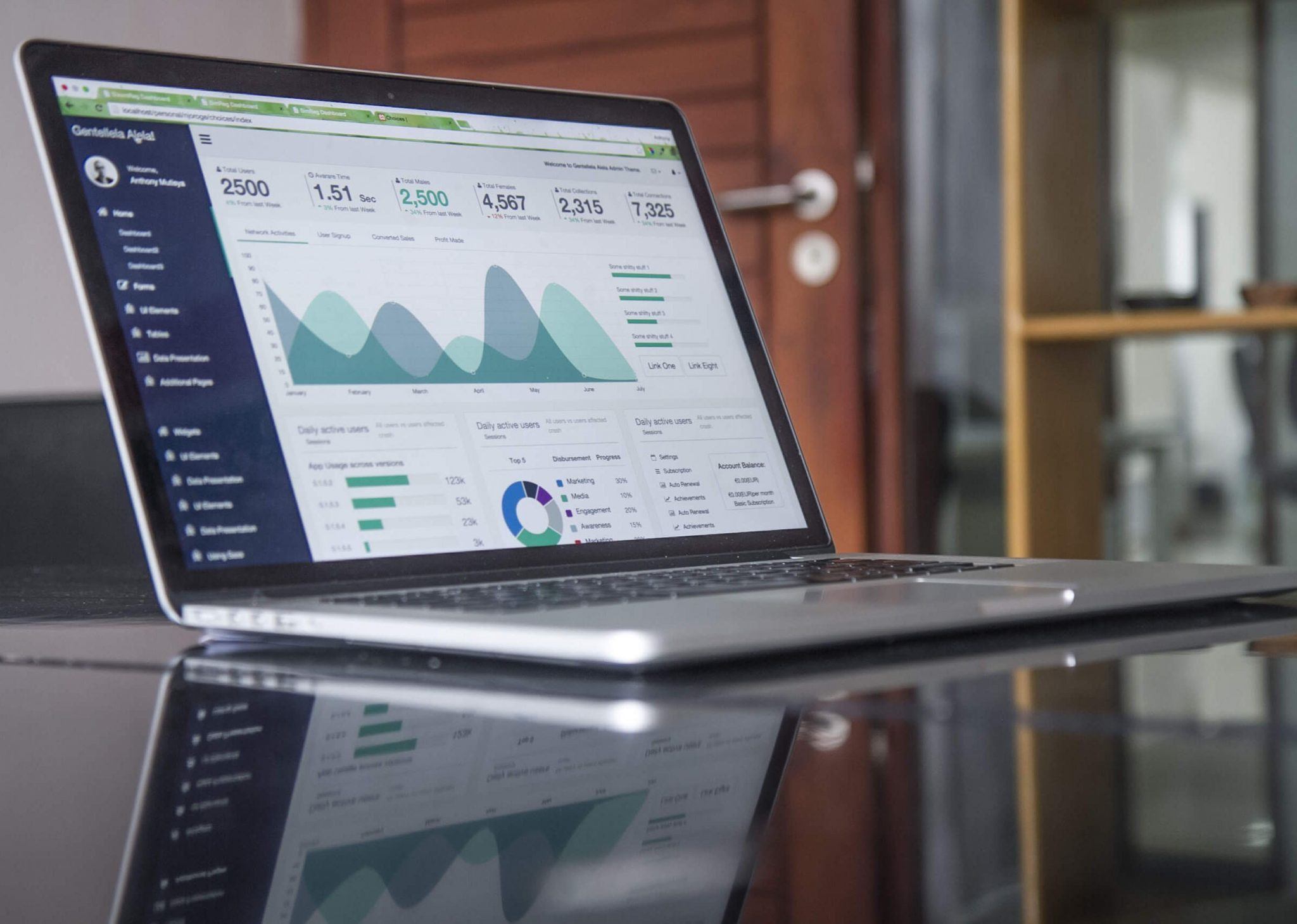 That's why we've compiled a pretty extensive list of mistakes. As well as a collection of do's and don't's. We hope they help to make your content marketing strategy easier. And more successful! Let's take a look at some of the most common content marketing mistakes. We'll also show you techniques to create reader personas for your blog. Simply because it is an integral part of making sure you succeed at content marketing.
CONTENT MARKETING MISTAKES
Mistake #1: Slow Page Loading Times
Did you know that the amount of time it takes for a page to load can impact metrics? Slow load time can create bounce rates and low conversion rates. Which can lead to negative effects on your content marketing strategy. And no one wants that! Now, you may not be anywhere near that level, but it can greatly affect your content's ability to reach users. There are a lot of reasons that can cause slow speeds. But bad web hosting tends to be one of the main culprits.
For example, lower priced hosting companies will share hosting packages to multiple websites, it can slow down the processors. Simply because the amount of bandwidth across the server – it makes the websites slower. So, if your site takes more than 3 seconds to load, it's time to change your hosting company. Now a dedicated server might be out of the question, due to your budget,c but a shared hosting plan might do the trick.
Mistake #2: A Poor Traffic Acquisition Strategy
You could have the best quality content on the internet. But it means absolutely nothing if you aren't directing traffic to it. The success of your content isn't always rooted in the quality of writing. Good writing helps, yes, but it's really about the traffic you get. If you don't have a formal traffic strategy, it's time to make one. It could really be the most important content marketing task you do this year.
Mistake #3: A Too-Safe Approach
Is your approach to content marketing too safe? Are you only writing boring articles? Or curating generic content? If so, it's time to figure out what you're really afraid of. It's okay to be bold. Go ahead and take some chances. Your readers will thank you for it. Go ahead and share content that YOU would want to read. This is no time to be generic.
Mistake #4: Writing That Is Just Awful
Yes, it's true that writing quality isn't the only factor that determines your content's success. And
content marketing really does help your business
. However it does matter if you have really poor writing. If you do, your visitors are going to bounce at a much higher rate. Now you don't have to spend a fortune on content writing. Just keep in mind that it can be helpful to outsource at least some of the responsibility. This gives you the freedom to focus on the bigger picture. Without compromising on the quality of the content itself.
Mistake #5: A Lack of Reader Personas
Who are you writing for whenever you write those blog posts or social media captions? If you can't answer that question with a clearly defined answer, it's time to change course. A lack of a good answer means that you don't have a good understanding of who your audience is. The solution here is to come up with reader personas – as fast as you can.
TECHNIQUES TO CREATE READER PERSONAS FOR YOUR BLOG
A reader persona is nothing more than a fictional snapshot of your average reader. You can give this profile a name, backstory, and all that jazz. But the point here is that it forces you to personify your audience. As a result, the content you create becomes well-crafted and more targeted. Which means it will automatically become more relevant to your actual readers.
Step 1: Study the Competition
It doesn't hurt to study a fellow blogger in order to take the right step in the process of audience research. You can select a handful of blogs that cover the same topics you do. Read their posts and take a look at their social media accounts. Then answer the following questions:
Who are their fans? You can click on their profiles to find out locations, ages, genders, etc.
What's the language like? Is it formal or casual?
Is there a specific type of content that they share? Do they include graphics, videos, pictures, links…?
Which posts or updates get the most engagement?
How often do they post? Are their posts long or short?
Do they quickly respond to comments and deal with complaints?
Is self-promotion something they rely on?
What mistakes do they make and how can you avoid them?
Step 2: Find Potential Readers Through Twitter's Advanced Search
Facebook has more than 1.6 billion monthly active users. But, it doesn't mean that all your answers are there. Surely Twitter is also ripe with conversations around your topics. They have a fantastic internal search engine. One that uncovers public questions. You can find this search engine at the bottom of their Advanced Search page. See below: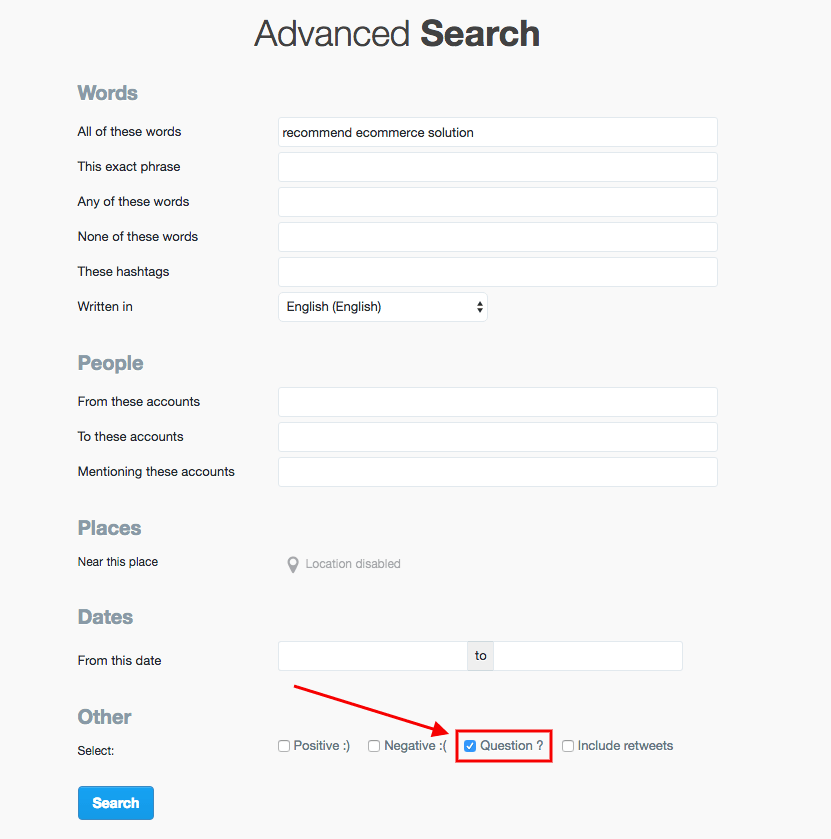 Step 3: Go Understand Your Unique Blogging Angle
Yes, there really are thousands of blogs. Especially within your niche. However, none of them has your specific voice of the same outlook on views or topics. This is where it pays to better understand what you bring to the table. Once you figure out your audience, the goal is to create content that speaks to them. So, how do you actually achieve that? It's time to take a look at the comments sections of the blogs you are studying.
It's impossible for a blogger to cover every single angle on any given topic. Chances are they overlook an idea or a tip from time to time. So, if a reader hasn't found the information they need, they tend to ask it in their comment. Which means you can take advantage of this loophole! This then becomes your unique blogging angle. As a result, you will stand out from the competition.
Step 4: Create Your Personas List
By now you should have a better idea of who your readers are. Or who you want them to be. But it isn't time to get ahead of yourself just yet. You still need to organize your notes and turn them into a list of profiles. One that describes the types of readers who are most likely to visit and enjoy your blog.
This is a pretty straight forward process, so don't worry! Go ahead and regroup recurring information into three or four profiles. Some experts recommend six or seven. But a smaller brand can get away with less.
Each profile should include the following information:
Name, age, gender, location, education
Job and/or financial situation
Interest in and experience with the topics you cover
Knowledge of social media
Main questions and challenges
Here is an example of reader profile: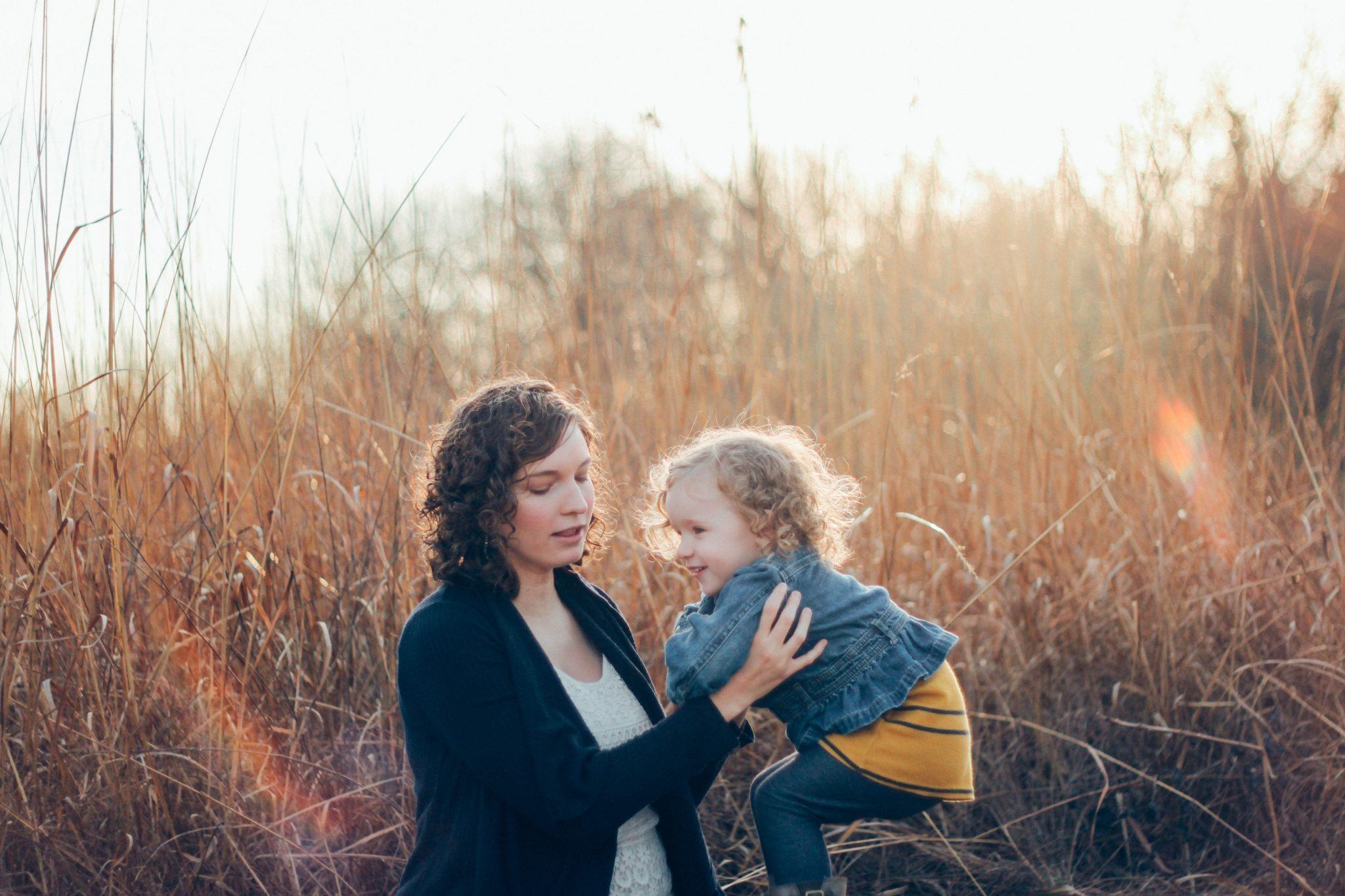 "Chloe is a 28 year-old stay-at-home mom living in Bloomington, Indiana. She has a Bachelor's degree in Literature and her husband has a Master's degree in Art History. Her family currently makes $60K a year. Chloe reads blogs every week and is proficient in a variety of social media platform. She uses Instagram, Pinterest, Twitter and Facebook – mostly from her mobile. She is looking for tips on how to organize her family life and still maintain a sense of simple living."
Now don't expect your reader personas to stay the same. Readers' expectations and interests change over time. So, this list is in no way definite. Therefore you need to be ready to revisit and edit it regularly. But if you'd like some more examples of reader personas, check out Darren Rose's excellent post.
There are also a few things to consider, as far as your audience is concerned. Surely, you can rectify all of the mistakes listed above, but still take a few things for granted. Especially when you take your audience into consideration.
CONTENT MARKETING DO'S & DON'T'S
Don't Do This: Being Too Sales Oriented. This happens when you focus too much on the product and service descriptions. Or when you explicitly promote your brand.
Do This: Instead you can create educational and informative content. However, you don't want to forget that you should entertain your audience.
Don't Do This: Not Writing for A Target Audience. This happens when your topics are far too general. Or when you don't address the issues that your target buyers have.
Do This: It's best to research your target buyers' challenges and motivations. That way you can tailor the content to address their specific issues. It's becomes a win win for both of you.
Don't Do This: Focusing Heavily On SEO. You can run into this problem when you go overboard with keywords. Don't worry though – it has a tendency to happen to the best of us. It happens when you create content with link building as the number one priority.
Do This: Instead try your best to write for people. Don't get looped in writing for Google. You can use keyword research for a variety of topic ideas.
Don't Do This: Posting Too Often or Not Enough. You might have fallen prey to this. You're either posting content randomly. Which means you aren't posting regularly. Or you're posting too much and overwhelming your audience,
Do This: The goal here is to meet a perfect balance. Make it a point to create a content post schedule and stick to it. It's really best to go ahead and develop a content topic strategy so your posts make more sense. As well as posting them on a regular basis.
Don't Do This: Having A Monotonous Format. This happens when you write huge blocks of texts without subheadings. Or you don't include images or videos.
Do This: Your top priority should be making your content easy to skim quickly. The trick is to find a balance between the amount of text and visuals. Make sure you pay attention to paragraphs too. Break up text where it makes sense.
We know that it's hard enough to be successful with content marketing. Don't let your content become a disadvantage. If you avoid the mistakes listed above, you're in the right direction. Once you remove these issues, you can greatly increase your chances of being successful in the long run. We hope this has been helpful! And remember, if you are making any of these mistakes it's time to rectify the situation. Head over here for more information on Killer Tactics for Inbound Marketing and How To Succeed.
Have you made any of these mistakes before? Did you notice any mistakes that you are currently doing? Let us know in the comments below.