ClickFunnels Review: Features, Benefits, and Comparisons
Getting people to your website is one thing, securing sales is a whole other ball game. What if there was a tool that you could use to run your entire online business if you wanted to? Well, ClickFunnels promises to do just that.
The only problem is, you're probably already skeptical (as I am) about these hyped up, over-the-top marketing tactics often used to sell products like this. ClickFunnels is no exception. Their marketing actually makes it a lot harder to tell whether the software is worth the investment or just all smoke and mirrors.
But as you'll discover in our ClickFunnels review, the program is, in fact, a pretty awesome tool that can be helpful for nearly every online business owner, regardless of their niche. You only need to know how to make the most of it.
In this ClickFunnels review, we'll tackle everything you need to know about it in an easy to comprehend kind of way, so you see exactly how it works and how you can apply it to secure more sales for your business. Let's dive in!
The Concept of Sales Funnels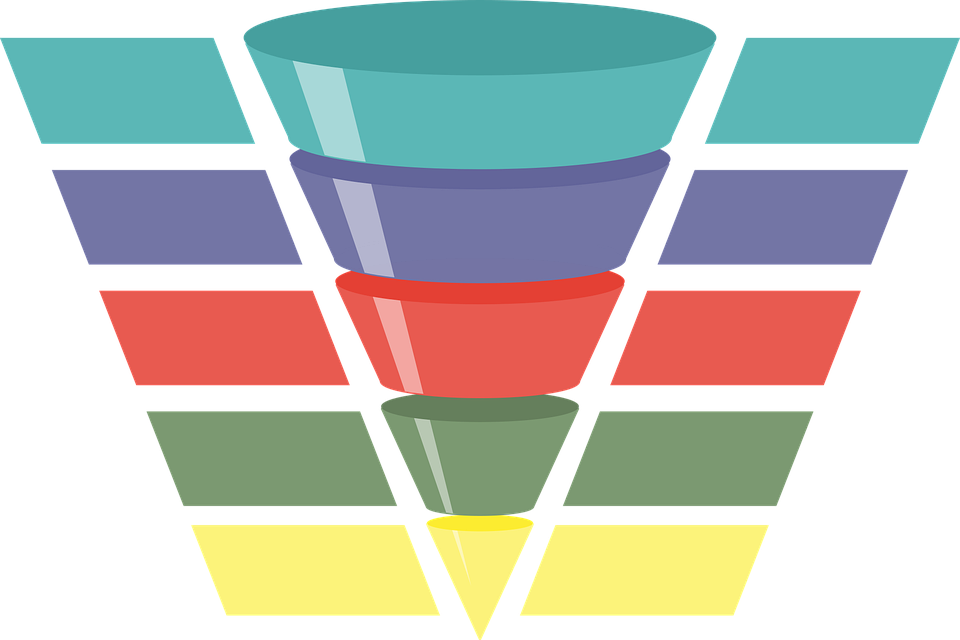 In the modern marketplace, the secret to increasing the value of every customer you sell to is Sales Funnels. With an attractive sales funnel in place, you can increase your sales dramatically while providing incredible value to your customers. ClickFunnels was specifically made for this purpose. It's a sales funnel building software that let you manage each step of the sales process from the concept stage through to completion.
With it, you don't need to have technical skills to create an effective funnel, and it will really change the way you approach digital marketing. You don't have to hire a web designer, developer, and/or a sales team to manage your marketing, which will go a long way in saving you some buck, which we'll talk about in more details later in the post.
What Exactly is ClickFunnels?
ClickFunnels is an integrated system that provides many features to help users build landing pages, webinars, sales pages, billing pages, etc. As a landing page and sales page designer and editor, it has an ample list of funnel templates and page templates.
For example, if you want to set up landing page for webinar registration, ClickFunnels provides you with a number of different tools to make the process easy and successful. The template will come with a landing page, a live webinar page, thank you page, a sales page, and a webinar relay page. That's just how thorough ClickFunnels is.
It ideally makes it easy for you to take a great idea, a dream business, or a new product that you want to sell and turn it into a well-designed sales funnel to help you convert your visitors into paying customers. Rather than spending extensive amounts of time and money trying to design your own pages or hiring a web developer, ClickFunnels incorporates all of the core elements you need to put up an effective sales funnel.
What is Included in ClickFunnels?
ClickFunnels has three main products within it, and each has its own range of features. These include:
ClickFunnels
Actionetics
Backpack
As most SAAS products of today, ClickFunnels comes in two tiers – ClickFunnels Basic Suite and Etison Suite. The basic version comes with ClickFunnels only, while the Etison Suite comes with all three: ClickFunnels, Backpack, and Actionetics. In addition, the Etison Suite ideally has no limitations on the number of funnels/pages allowed or the amount of traffic.
As you can see, this is quite a complicated product with lots of different features. To make it easier to review all the details, we'll break up the review further into detailed reviews of each of these products.
ClickFunnels Review
ClickFunnels provides you with everything you need when creating a website, testing it, marketing it, selling your product, and delivering it to customers. Within its basic version, you're only allowed to have 20 funnels and 100 pages in total within the funnels. For small businesses, this is plenty to start with and test out a number of funnels for your business.
Want to follow along right now? Clickfunnels offers a 14 Day Free Trial.
In addition, you can also integrate with Stripe, so that your business can accept payments right out of the box. At a minimum, you need to have the following to be successful online:
Responsive Web Design
Sales and Checkout Pages
Squeeze pages and Email Capture
Stats Tracking
Product Delivery (course with login or digital asset)
Split Testing (A/B Testing)
In summary, if you want a platform that's easy to use, has tons of features upfront, and requires minimal effort to create professional quality pages, ClickFunnels is a great choice for you. It comes with a great page builder, stats tracking, email collection, easy and quick Stripe integration, etc. to get you up and running as quickly as possible.
Nonetheless, it's important to keep in mind that ClickFunnels will only work if you already have a way to drive traffic to your site. After all, it's not a platform that generates traffic, rather, it works to convert already existing traffic into actual sales. This brings us to the next point.
Who ClickFunnels Might Not Be For
Although ClickFunnels is such a solid product, it's certainly not for everyone. In fact, it's probably not meant for most people. One of the key things you should note is that ClickFunnels is not for you if you don't have a working way to drive traffic. As such, before you sign up for it, you'll need to have one of the following:
A working ad plan that generates traffic from Google, Bing, Social Media, etc.
A strong social media following
Affiliates
An email list
An existing website with good organic and direct traffic
Any other way to put eyeballs onto your website
If you are only starting a website and you're yet to have a product that can support the cost of using advertisements to get a build audience or following, ClickFunnels might not be for you. You at the very least would want to take a look at some of the articles about Advertising your Website, Building your SEO, or building your Social Media Presence. You may want to also enlist the assistance of a Digital Marketing Agency that specializes in driving targeted traffic to your site.
Actionetics Review
Actionetics is one of the products within ClickFunnels, and should be considered a separate product altogether. Still, you can only get Actionetics if you have ClickFunnels because it's an upgrade. So, what exactly is Actionetics?
In brief, Actionetics is a tool designed to create email sequences for your contact list. When a visitor comes to your webpage and put their email address in, you can decide to send them a free or paid product. With Actionetics, you can tag the contact based on how they got onto your list, and then design a follow up sequence specially tailored to them.
ClickFunnels can create a funnel of webpages to entice the visitor to purchase a product or opt-in, and then up sell them. Actionetics allows you to create a funnel of email sequences that a user can go through to help deepen your relationship with them and then sell them more products or even higher priced products.
But the funnel itself is just the tip of the iceberg; the follow-up sequence is where the real money is made. You ideally make money from the repeat customers who buy more and more expensive products from you.
We found it to be much better than other email solutions like MailChimp. The emails have great templates that makes it easy to create, with high deliverability. The sequences are also intuitive and easy to use. You can just put a delay such as 1 day after signup, 5 days after purchase, etc. and then write the email. For example, if you run a real estate website, you can send an email to all the landlords in your list and send the tenants a separate email.
If you like using other email marketing solutions, you'll be glad to know that Actionetics integrates with most of them, including ConvertKit, MailChimp, InfusionSoft, etc.
BackPack Review
Backpack is an affiliate manager that comes with the premium tier of ClickFunnels. To set it up, you just need add your affiliates and/or products into it, set your rates, etc. You can then have other people promote you landing pages, and track your contacts from their opt-in through to actual purchase.
This is great as many other affiliates programs usually track their users only via cookies and other tracking codes. Backpack will ideally tag the contact such that any affiliate payments will follow that contact for the life of that specific customer.
Now that we know what's included in the ClickFunnels software, let's look at its primary benefits.
1. No Distractions
When browsing the internet, there will always be distractions that can potentially prevent the user from hitting the "Buy" button. These could be banners or popups that directs their attention elsewhere. ClickFunnels counteracts this by presenting the visitor with one landing, one option, and one opportunity to take action. They can either choose to make a purchase or leave.
2. Makes you Money
A marketing tool can only be as good as the money it can make you. ClickFunnels has quite an impressive ROI, backed by outstanding testimonials of users that go on to quadruple their income. The software essentially saves you the hassle of having to hire an entire team of web developers, copywriters, designers, and sales managers.
The monthly cost of $97 for the basic plan seems like something your business can do without, but in comparison to the alternatives, it really a no brainer. It's also quite easy to pick up, only needing a few hours to get you going.
3. Easy to Use
As mentioned earlier, it's super easy to create pages and funnels in ClickFunnels without any past coding and design experience. The whole software was created with the novice marketer in mind, and they pulled it off quite well.
One great feature is the sheer number of templates available to you, and you will be advised on the ideal funnel for you based on your goals and desired outcome. The templates are all tested and proven to deliver impressive conversion rates.
4. Wide Selection of Page Elements
The design widgets (elements) are important because they give you great flexibility to structure and design a page however you want. The basic elements include Text, Headline, Input Forms, Video, and Buttons. You also have access to more advanced page elements like:
FAQ Blocks
SMS Sign Ups
Retargeting
Facebook Comments
Countdown Timers
It's easy to customize each of these elements via the sidebar in the editor. You can change things like fonts, colors, margins, and even the alignment.
5. Impressive Affiliate Program
The ClickFunnels affiliate program will pay you 40% recurring commission for each referral that you secure when you promote either the Funnel Scripts, Dotcom Secrets, or the Expert Secrets books. Plus, thanks to their sticky cookie, you'll be able to make money on any upsells that your promotion generates. So, if a visitor clicks through to sign up to the starter package and they end up buying the full package, this commission will land in your pocket.
Share funnels is also a great offering that lets you share the funnels you've built using the ClickFunnels software to the public. When someone clicks on your URL, they can use your funnel on their account, and if they aren't a member yet, they have the option of signing up for ClickFunnels 14-day trial. Your funnel URL will serve as an affiliate link, and you'll get a commission whenever a user continues to use ClickFunnels once they download your template.
ClickFunnels Downsides
ClickFunnels only has a few downsides, which include the limit on the number of funnels you can create on the basic package, and the slowness of adding a funnel. There's also a bit of a learning curve that can be somewhat frustrating to some users, but this shouldn't be a problem if you really want to set up your business for success. In fact many time you are able to find eager people or ccompanies that are willing to help you out as well.
Furthermore, ClickFunnels have put so much effort into the onboarding process to help ease the novice user into the software. The interface is also nicely put together for the most part, and once you create a few funnels by yourself, the whole process becomes straightforward and faster over time.
What about the Competition?
There are a number of other funnel and lead pages marketing software out there that promise similar features and quality to ClickFunnels. Some of the most popular ones include LeadPages, Unbounce, and SamCart. But how do they really compare?
ClickFunnels vs LeadPages
Leadpages was one of the first landing page marketing solutions in the market, which probably explains its unprecedented popularity. Over time, its developers have tweaked, reformed, and updated the features to fit the customer needs.
Leadpages is different from ClickFunnels in that its focus is more on the landing pages than sales funnels. But, you can still create sales funnels with Leadpages though it requires a bit more work. It comes with over 130 different templates to choose from, with an option to build your own if the options don't work for you.
Some of its most prominent features include:
Webinar hosting
Two different landing page editors (one for beginners and one for advanced users). The basic one has more help while the advanced has more flexibility.
Easy integration with most membership sites, email providers, and webinar platforms
Ability to create popups that show up anywhere on the page
Leadpages comes in three pricing tiers: Standard Plan at $37 a month, Pro Plan at $79 a month, and Advanced Plan at $199 a month.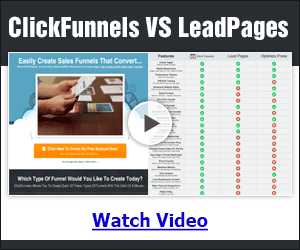 In comparison to ClickFunnels, Leadpages strength lies in lead generation only. ClickFunnels goes the extra mile to help you strategically design your funnels, with resources that show you how to set them up to increase your conversion rate.
ClickFunnels vs. Unbounce
Unbounce has been helping users to create landing pages and enhance their marketing strategy. Since its inception in 2009, it has helped to revolutionize page building experiences. It has many features, all of which are designed to help you integrate, build, convert, and optimize your landing pages. These include:
Convertables: targets the landing page visitors at the right moment, with the ability to set custom frequencies
Drag-and-drop builder with dynamic text replacement that is mobile friendly
Over 125 custom convertables templates with the ability to design your own from scratch
Unlimited A/B testing, lightbox forms, conversion optimization and lead generation tools, and brandable lead notifications
It comes in three packages: Essential at $99/month, Premium at $199 a month, and Enterprise at $499/month.
Still, Unbounce is more suitable for landing pages, and lacks the premium funnel design tools and features that come with ClickFunnels.
ClickFunnels vs SamCart
SamCart is more focused on building checkout pages and has a reputation for building high-converting checkout pages with quick sales. It also supports both PayPal and Stripe, and comes with 17 different templates to choose from.
SamCart is designed to help you set up and design check out pages right away with basic customization and edits, but lacks the degree of flexibility and advanced edits that ClickFunnels offers in its drag-and-drop editor. SamCart also lacks the ability to lead the visitors through the entire funnel process, meaning you're left to your own devices.
And considering that both start at $97/month, ClickFunnels clearly has an edge as it's more powerful and more intuitive.
ClickFunnels Review: Final Thoughts
If you want to consistently make money online, you need to have a strategic sales funnel. Overall, we found ClickFunnels to be a solid product, for the right person. It provides you with an all-in-one solution to cater for most of your marketing needs.
It's worth stressing that ClickFunnels is designed for businesses and websites that are already generating traffic to their pages, or are willing to invest the time, money and effort it takes to drive that traffic. And while Unbounce, LeadPages, and SamCart are certainly useful tools with their own unique strengths, ClickFunnels encompasses all of the tools and features you need at a very similar although arguably cheaper price when you take into account the full suite of software.