Social media CTA's are an important way to create engagement within your various social media platforms. A CTA or call to action is part of your caption or post that tells your viewers what their next action should be. Call to actions are important for two reasons: they encourage engagement and it gets people from your social media platforms to your website to make a sale, read a post or to sign up for your e-mail list.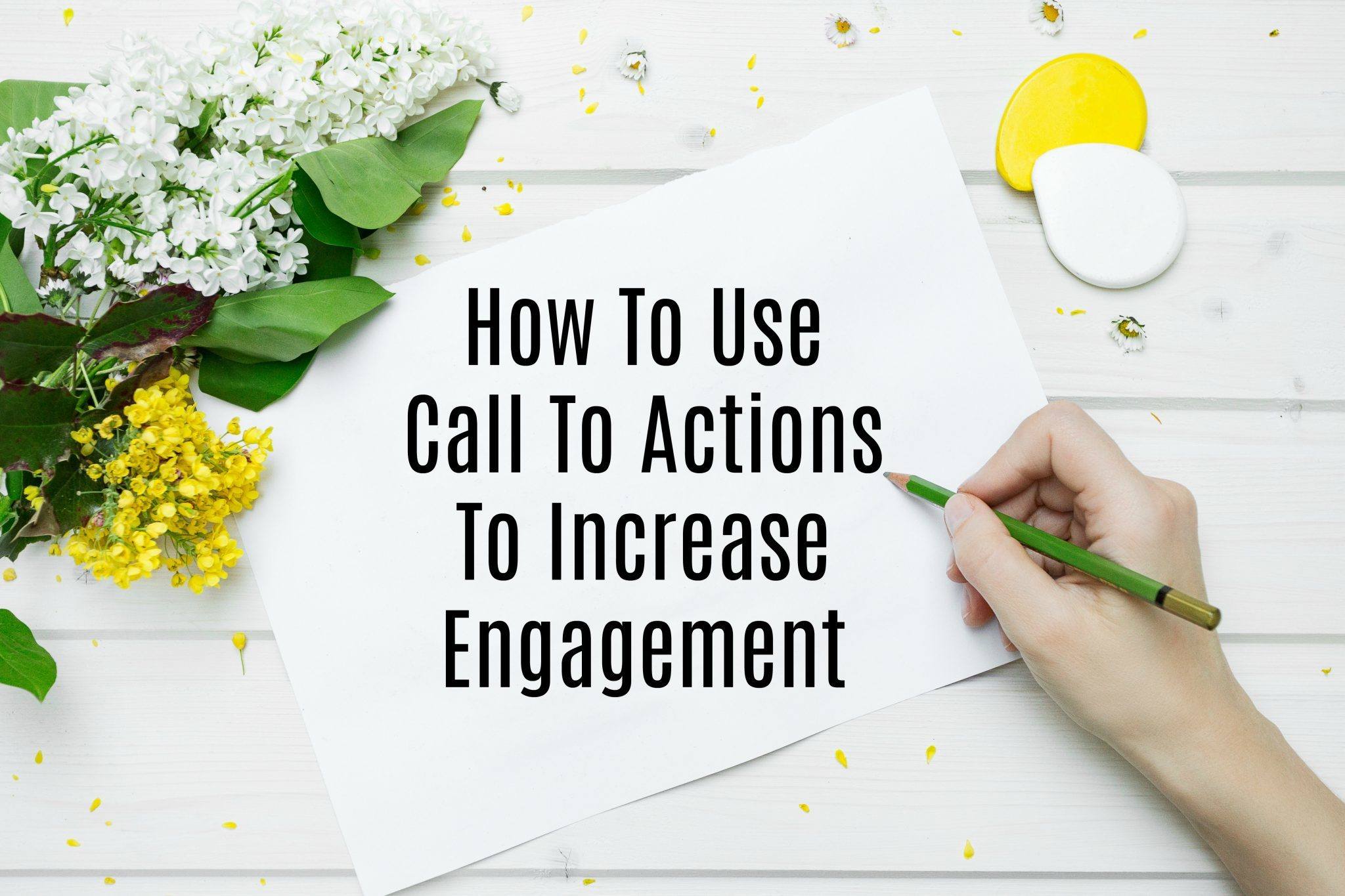 While back in the day, before social media was even a thought, the only way marketers could have a two-way interaction with their customers was through physical interaction. Much like trade shows or product launches. Today, the task is a lot easier and the results are much better. Thanks, social media!
Since most consumers have easy access to their social media profiles, it is even easier for marketers to interact with their followers. Both quickly and effectively. If you want customers to pay attention to you, you need to pay attention to them. Which means you should like the posts or retweet their updates. Therefore consistent social media interactions will make your customers more motivated, and inclined, to follow and engage with you or your brand in the long run.
HOW TO BE A BETTER SOCIAL MEDIA MARKETER
In order to generate positive results from your social media campaign you need to have the right attitude and mindset. It will help you gain traction in the ever-changing world of social media. So yes, social media marketing has a lot of benefits and it truly can boost sales and brand awareness. Let's take a look at some CTA strategies…
1 Go Deep, Not Broad
While a typical tactic by marketers is to cover every possible base, it isn't the best route to take. Yes, most people do this as a way to hopefully reach as much of the market as possible. However, you might spread yourself too thin. And with so many accounts to manage, you'll have less time to focus your efforts with engagement and monitoring of your audience.
It's best to find and choose the three most optimal websites for your brand. Then develop a deep engagement level with your ideal audience there. As you become a pro with each channel, you can expand to other platforms.
Keep in mind that while the top 5 social media sites may be the obvious choice, there are other platforms. Which can come into play if you want to stick within a certain niche. For example, DeviantArt or Etsy are great places for the art community.
2 Focus On the Influencers
Influencers should be high on your list or priorities. Influencers can greatly impact your business' social media marketing efforts. Especially if your niche involves millennials. According to Tubular Insights, 60% of millennials said they would try a product of brand suggested by a YouTuber. This is merely a glimpse of how powerful influencers are in terms of brand awareness, interest and the ability to sway consumer behavior.
Therefore you should look for online influencers within your market or niche. Ones that are followed by a quality audience. Since the audience will be more likely to be interested in your business or brand. Connect and build a relationship with them and if they find you interesting, they will share your content with their followers. As a result, you'll gain access to a brand new audience. An audience that might have taken you a lot longer to reach.
3 Optimize Your Facebook Ads – Further
Facebook Ads continue to be a popular tool in the world of social media marketing. It's benefits are huge and can allow your content to appear in the news feeds of your target audience. Furthermore, it can also help you test products, gather feedback and improve your future campaigns. For more information, take a look at how to create them here.
The most common way to compose social media ads is to put in the content you want. Decide on what type of people and how many of them will receive your message, and for how long the ad will run. Facebook Ads can be customized even further with the use of call to actions!
In the Power Editor you can optimize for any of the following:
comments
post like
link click
photo view
share
post engagement
post story
claim offer
video play
This gives Facebook the relevant conversion information it needs in order to help you gather specific actions in regards to your goals.
4 Grow Your Audience
Pinterest and Instagram allows a business to search for relevant users based on their biography or mutual followers. Tools like Audiense can help you find and follow relevant users on Twitter. However some social media platforms may need a more manual approach.
Therefore you need to make the follower/following management a part of your business' social media routine. Even if it's just for a few minutes a day. Most importantly it will help you get noticed in a variety of social media communities and helps to build a larger, more targeted base of followers.
5 Build Relationships
The goal on any social media platform is to build a strong relationship with your audience and influencers. The relationship between should be fostered at all times. A customer's experience is the biggest factor when it comes to a business' failure or success. Therefore you need to talk with them, answer their questions and address their concerns via social media. However if you don't, it could hurt your reputation. As a result, you might turn potential customers away.
Always acknowledge people who reach out to you. Whether it's good or bad reviews, questions and any other type of engagement. Be available to them and participate in conversations. Customer service – even online – matters a lot. Both to you customers and potential ones as well.
CTAs & Engagement
When you create a way for your customers or clients to engage, it gets them involved with your business. Therefore you need to be as involved with your customers as there are with you. Which is why it's important to plan out in advance for scheduled social media. That way it allows you to set aside some time to be present on your social media accounts.
In addition to posting relatable (and valuable) content, a call to action makes your posts push a little further. With CTAs you have the opportunity to tell your audience what they should do next after the read your post. This includes likes, comments and answers to questions. The best part is that it can be used on any social media platform!
Call To Actions To Increase Engagement
Like
Double tap
Give a thumbs up
Give hearts
Comment
Share
Retweet
Use a specific hashtag
Repost
CTAs & Conversions
Social media is an incredible marketing tool. In fact your business can use social media as a way to achieve a variety of goals. As a result, one of your goals with social media is to use it and get viewers over from those platforms to your website. Of course you want people to go to your site, purchase your product, read your blog post or join your e-mail list. Furthermore you can take those viewers to your website with call to actions.
First you have to make an offer your potential customers can't refuse. It's easier to do this is you offer a product. Then you have the ability to offer discounts on their next purchase. However there are other ways too.
You can offer…
new arrivals
exclusive product or sales
discount code
free shipping
giveaway
Whatever you decide on, make sure it's an offer that will get them excited. After you decide on the offer, you can create the perfect call to action to go with it. Now, I'm sure you've seen a lot of "click here" or "download now" but sometimes that doesn't cut it. If everybody sees the same CTAs they become less effective. So the trick is to be different. And focus on exactly what you want your audience to do?
The easiest way to start is by answering the "why" question. Why should somebody subscribe to your blog? Or, why should they buy this new product? The answer can be anything from "Buy 1, get half off!" to "Sign up today and never miss another post!"
CTAs & Marketing
Sometimes the goal of CTAs is to ramp up a marketing campaign. This can be done through email, a landing page or any social media platform. You'll want to focus on all of the amazing things that your customers will want and maybe even include a bulleted list of why your brand is awesome. You might even want to throw in the coveted "limited offer" as an incentive for your customers.
This is where call to actions come into play. Of course every form of communication with your customer should begin or end with a call to action. It only makes sense to determine the effectiveness of your call to actions. You can do what is called a Split Test.
How To Do A Split Test
A lot of email providers offers a way to measure this. However to keep things simple, let's pretend we have a database of 300 contacts. What you'll do is half your contacts and send each group a different marketing campaign. For example, 150 contacts will receive Email A and the other 150 will receive Email B. The CTR from the group that received Email B should yield higher.Ultimately it isn't difficult to calculate the effectiveness of CTAs and it doesn't rely solely on the email or medium that you use. Therefore it doesn't have to be time-consuming or complicated.
So if you're not too keen on Google Analytics and have a fair budget you can use Optimize.ly or Visual Website Optimizer on your landing pages. As a result you can then perform split-tests on your all your call to action buttons too.
HOW TO HONE YOUR CTAs
1: Does your first sentence grab your attention enough to continue reading?
An easy way to figure this out is to think of your favorite product or service and add in the product or service you want to promote. Once you find the perfect sentence you've made it so your customers want to read more. This will increase the chances for them to perform an action. Like start a trial, get a discount or download, etc.
2: Do you have empathetic CTAs throughout?
If you think your call to actions might be a little too weak and you're worried about them coming off as a sales pitch, don't worry. Make them sound a little like that. Obviously you don't want every sentence to be that way, but your call to action should be noticeable throughout your content. The worst thing you can do is having a boring call to action, one that nobody cares about.
3: Are you tracking your CTAs?
Hopefully the answer is yes. All you have to do is find a way to track how the amount of times people have clicked on your call to action. Luckily there is an easy way to do this. You can use tools like Google URL Builder or Bit.ly. Or really any other tracking method out there. However you should continuously measure your efforts. As a result, it will help you promote your products or services more effectively. It takes a little bit more time, but in the future you'll make more informed decisions when it's time for your next campaign.
In addition you should focus on certain call to action languages. It will help grab the attention of your customers and persuade them to take action.
3 TYPES OF CALL TO ACTIONS AND SPECIFIC LANGUAGE
The language you can use a way for someone to take action, read more, see why, check out, explore and discover. Below you'll find several different ways to encourage your followers to learn more, share your content, share what they think and take action.
Action #1 – Learn More and when to use it:
Drive traffic to your website or blog
Share media to enhance your credibility and branding
Share photos, videos or other multimedia
Specific Language: Read more, See why, Check out, Explore and Discover.
Action #2 – Share Content and when to use it:
Reach new audiences
Get the attention of like-minded people within your niche
Raise awareness around an issue or campaign
Specific Language: Retweet/share, Tell your friends and Spread the word
Action #3 – Share What They Think and when to use it:
Better understand your audience
Show your audience that their opinion matters
Engage in thought-provoking conversation
Gather user-generated content
Specific Language: Tweet your thoughts with hashtag #, tell us what you think in the comments below, share your story, we want to know what/why, tell us and we'll retweet.
We hope this has helped. If you have any questions in regards to call to actions, let us know in the comments below – so we can discuss!